If you have a dinosaur lover in your family, he's going to love these bedding sets and accessories to make his room a dinosaur-land! From pillows and comforters to awesome blankets – it's easy to create this bedroom theme!
Start things off right with one of the great comforter sets or cute sheet sets like the one pictured here, then check out the other dinosaur bedroom pages with furniture, decor, wall decals and more.
Most of what I can find tends to lean toward the boy end of the spectrum. My niece loved dinosaurs when she was young and would have so liked to have a bedroom decorated that way. Her favorite color was purple, so that would have been a wee bit of a challenge working with some of these bedding sets. But you can make it happen if you need to do a girl dinosaur bedroom. Although, check out the personalized set from Artistic Sensations below, which can be customized in your choice of colors.
Jurassic World Bedding
I'm separating these out just because they're new, hot and popular. Several items based on the new Jurassic World movie, all from Target.
I love the way they've used the molecule structure diagram in the background and all the silhouettes for the dinosaurs.

Jurassic World Comforter
At Target.com

Jurassic World Sheet Set
At Target.com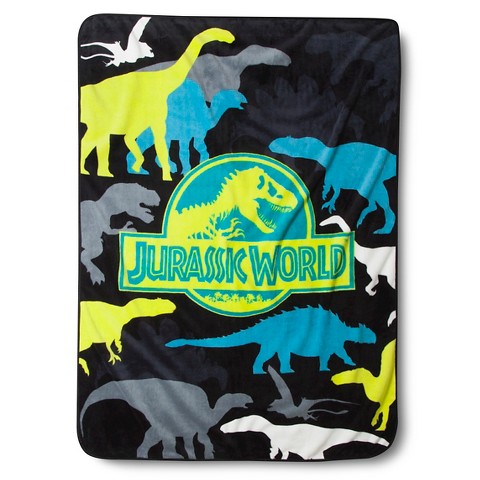 Jurassic World Throw
At Target.com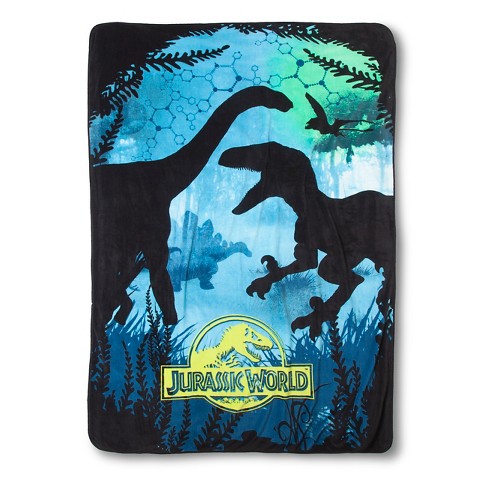 Jurassic World Blanket
At Target.com

Jurassic World Cuddle Pillow
At Target.com
Only time you'll ever see a T-rex with the word cuddle
Dinosaur Bedding
Bright and colorful to dark and dramatic
So many choices when it comes to dinosaurs! And, surprisingly, it's not a bunch of green and brown. (Although there is some of that as well.) We have choices full of bright colors and cartoony drawings, or maybe you'd prefer muted shades and realistic drawings of your dinos.

Retro Reptile Dinosaur Kids Bedding – Twin Retro Reptile Quilt from: The Land of Nod

Retro Reptile Dinosaur Duvet Cover – Twin Retro Reptile Duvet Cover from: The Land of Nod

Mi Zone Kids Sharp Tooth Dinosaur Quilt Set
At jcpenney.com

Jurassic Jams Comforter Set
At Target.com
Love the completely different color scheme here

LaLa + Bash Saurs Dinosaurs Reversible Comforter Set
At BuyBuyBaby.com

Braden Dino Quilt
At Pottery Barn Kids

Organic Dino Duvet Cover
At Pottery Barn Kids

Mi Zone Daring Dino Comforter Set
At Kohls.com

H&M Dinosaur Duvet Cover Set – Gray
At HM.com

Dinosaur Embroidered 3-Piece Cotton Duvet Cover Sets
from: BeddingInn.com

WSH 'The Land Of T-Rex, Duvet Cover Case and Pillow Case Cover Set

Dinosaur Bedding – T Rex
At Children's Rooms UK

Dinosaur Battles Bedding
At Children's Rooms UK

Dinosaur Facts Single Bedding
At Children's Rooms UK
Also available in a cream color and toddler sizes

Dinosaur Twin Bedding 4pc Childrens Set by Sweet Jojo Designs
Bedding sets and sheet sets
Twin, full and queen sizes

Linen Collection Dinosaur Set
At Amazon.com

Dino World Comforter Set
At Amazon.com

On Your Own Blue Dinosaur Comforter Bed Set
At Amazon.com

Dinosaur World Duvet Set
At Amazon.com

Dinosaur Park Cartoon Bedding Set
At Amazon.com

Dinosaur Skeletons Bedding Set
At Amazon.com
Customize with your child's name
Available in toddler, twin, full/queen and king sizes

Catherine Lansfield Kids Dino Single Quiltset, Multi
At AmazonUK

Dinosaur Tracks Bedding Set
Five piece bed in bag for twin bed

little home at John Lewis Prehistoric Explorer Duvet Cover and Pillowcase Set
At John Lewis
Includes lots of cool facts about the different dinosaurs
From the UK, so make sure you double-check sizing and what pieces you get
Pink Dinosaur Bedding

Pink Dinosaur Bedding Set
At Amazon.com
Available in twin, full and queen sizes

Cartoon Pink Dinosaur Twin Sheet Set
At Amazon.com
Toddler Dinosaur Bedding

Carter's 4 Piece Toddler Bed Set, Prehistoric Pals

Wildkin Olive Kids Dinosaur Land Toddler Comforter
At Wayfair.com
Dinosaur Sheets and Pillowcases

Organic Braden Dino Sheet Set
At Pottery Barn Kids

Organic Dino Sheet Set
At Pottery Barn Kids

Dinosaur Bones Sheet Set
At Target.com

Retro Reptile Dinosaur Sheet Set – Twin Retro Reptile Sheet Set from: The Land of Nod

Little Prints Kids Sheet Set (Green Dino)
At LandofNod.com
Also in orange and toddler sizes

Dinosaur Jungle Bed Sheet Set
At Amazon.com

Blue and Green Modern Dinosaur Sheet Set
At Amazon.com

Olive Kids Dinosaur Land Sheet Set
At Amazon.com

Blue Dinosaur Printed Sheet Set
At Amazon.com

Doodle Dinosaur Pillowcase, Color Your Own
At Amazon.com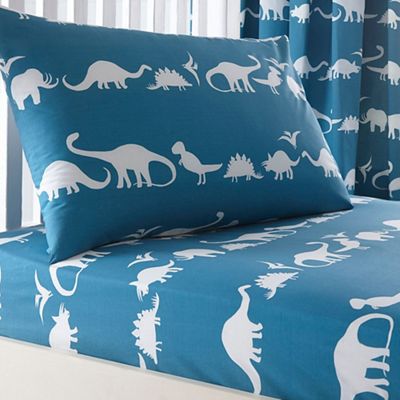 blue dinosaur print fitted sheet and pillow case set
At Debenhams
From the UK, so make sure you double-check sizing and what pieces you get

Indulgence Collection Micro Plush Twin Sheet Set – Dinosaur
Playing all kinds of sports
Disclosure of Material Connection: Some of the links in the post above are affiliate links. This means if you click on the link and purchase the item, I will receive an affiliate commission, probably enough to get a stick of gum. I generally only recommend products or services on this blog that I would use personally and believe you will find cool as well. I am disclosing this in accordance with the Federal Trade Commission's 16 CFR, Part 255: "Guides Concerning the Use of Endorsements and Testimonials in Advertising."