When the first movie came out, How to Train Your Dragon bedding kind of came and went before you could even blink. There was just one set ever and one blanket and you were kind of out of luck if you didn't act quickly.
With the sequel on the horizon, I'm hopeful we'll see a few more options this time. That said, Dreamsworks has been big on licensing deals for toys and Nickelodeon shows, but not so much home decor. Fingers crossed, everyone!
What you'll find here now are a few of the pieces issued last time, as well as a couple of new items I'm starting to find. Little yet really specific to the second movie.
How to Train Your Dragon Bedding
Some of these say "2" in the title and I don't recognize them from the first time around, but I also don't see much that makes them specific to the second one.

Dragons 2 Comforter – Twin
At Target.com
Not sold in stores

Dragons 2 Sheet Set – Twin
At Target.com

How To Train Your Dragon Twin Sheet Set
Set definitely from the first time around

How To Train Your Dragon Zippered Pillowcase Cover

How To Train Your Dragon Custom Rectangle Pillow Case

How to Train Your Dragon Custom Zippered Pillow Case

How To Train Your Dragon Pillowcase
How to Train Your Dragon Blankets and Pillows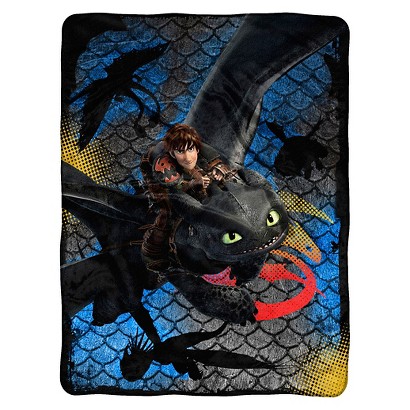 Train Your Dragon 2 Throw

How to Train Your Dragon 2 Dragon Scale Super Plush Throw 46″x60″
Disclosure of Material Connection: Some of the links in the post above are affiliate links. This means if you click on the link and purchase the item, I will receive an affiliate commission, probably enough to get a stick of gum. I generally only recommend products or services on this blog that I would use personally and believe you will find cool as well. I am disclosing this in accordance with the Federal Trade Commission's 16 CFR, Part 255: "Guides Concerning the Use of Endorsements and Testimonials in Advertising."