Bedding for when you can't pick just one sport
If you're a genuine sports fan, there's no way you could choose just one sport to include in your child's bedroom! So how about some great kids sports bedding options that let you feature their love for anything involving a ball.
Soccer, football, baseball, basketball – they're all represented in this game. Some sets even bring in hockey, tennis or golf! I was on the hunt for bedding sets that included a range of sports, not just one. And it's an easy space to find items for! Sheesh. You'll notice there's a serious bent toward blue in these sets – they're obviously thinking this is a boy theme – although some vintage-styled designs are more brown colors. Occasionally a pink set wanders across my path, but rarely.
If you are wanting to do a sports-theme for a girl, consider one of the designs with navy blue rather than baby blue, then work other items in the room with colors like orange or green rather than more blue. Of course, all of this depends on your daughter's taste as well. But you can make it work well with some thought.
Oh, and if you were looking for bedding for a specific team or school, that's not on this page. We're generically sports here, not team specific.
Kids Sports Bedding Sets
Gear aplenty in a variety of styles
These bedding sets are ready to hit the field, court, lawn, pitch – wherever the game is played. For the most part, they stick with the traditional American sports of football, baseball and basketball, along with soccer pretty often these days. Rarely do they wander outside of that group of sports.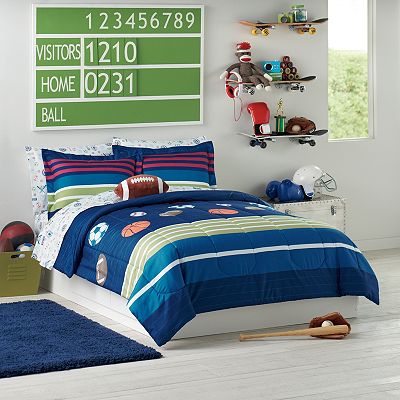 Jumping Beans MVP Sports Bed In A Bag
At Kohls.com

SPORTS AND STARS QUILT SET
At BedBathBeyond.com

NEWLAKE Sports Themed Comforter Sets
At Amazon.com

Kids Bed in a Bag (Sports Champ)
At Amazon.com

Mainstays Kids Play Like A Champion Sports Bed in a Bag
At Amazon.com

Mainstays Kids Sport Comforter With Unique and Cool Sport Silhouette Graphics
At Amazon.com

Mk Collection Sports Bedspread
At Amazon

Mk Collection Dark Sports Bedspread
At Amazon

Mk Collection Sports Bedspread
At Amazon

Sports Duvet Cover Set – Dark green
At HM.com

Scoreboard Shuffle Duvet Cover Set
At Target.com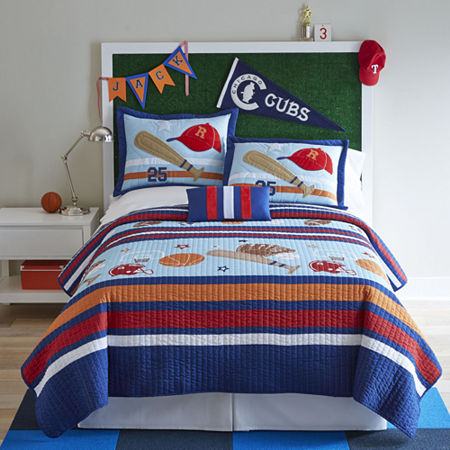 Mi Zone Game Day Quilt Set
At jcpenney.com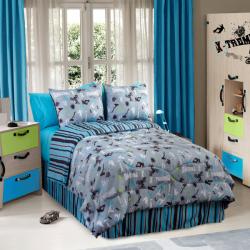 Action Sports Comforter Set
At Overstock.com
Twin-queen sizes

All Star Duvet Cover Set- Twin
Kids Sports Sheet Sets
Pair with bedding or on their own

SPORTS SHEETING
At PotteryBarnKids.com

Fancy Collection Kids Sports Sheet Set
At Amazon.com

Grey American Sports Bedding
At Amazon.com

Action Sports Sheets
At Wayfair
Pairs with bedding above
Love the black and red action since colors work for either gender
Personalized Sports Pillowcases

Boys' Sleepy-Time Pillowcase – Sports
At Personal Creations
Kids Sports Pillows & Blankets
Perfect for keeping warm at the game!

Sports Super Fan Fleece Throw Blanket
At Amazon

The Big One Oversized Super Soft Plush Throw Blanket
At Amazon

Melissa & Doug Sports Balls in a Mesh Bag – Plush
By far the mostly popular version
Disclosure of Material Connection: Some of the links in the post above are affiliate links. This means if you click on the link and purchase the item, I will receive an affiliate commission, probably enough to get a stick of gum. I generally only recommend products or services on this blog that I would use personally and believe you will find cool as well. I am disclosing this in accordance with the Federal Trade Commission's 16 CFR, Part 255: "Guides Concerning the Use of Endorsements and Testimonials in Advertising."