Buck up, soldier! Military camouflage for the bedroom
One thing I discovered in looking at camouflage bedding – there's a huge world of difference between military and hunting styles. There's army camo, and then theres 14 different kinds of duck blind camo based on the terrain.
Well, we're looking just a military camouflage bedding here – good old fashioned camo just like soldiers wear. Ok, maybe not so old-fashioned. After all, military camo has evolved over the years, based just as much on the terrain as hunting camo is.
That means the patterns on the bedding sets featured here might be jungle green or desert sand with large patterns or small. (I know. You thought once you picked camo, you were done with the decisions, right?) The style you pick will be the basis for how you decorate the rest of the room.
Now if you could just get your kid to make their bed and keep their room to military specs, you'd be all set!
Military Camouflage Bedding Sets
Traditional greens and browns
When you think military camo, the green, brown and black design is probably what springs to mind. But camouflage has gotten rather sophisticated over the years, with digital camo providing a bit better blending and the color range coming to include more tans and lighter greens. All of which you can find in these bedding sets.

My Room Geo Camo Bed in a Bag
At Walmart.com

Army Green Camo Bedding Sets by Sweet Jojo Designs
Mix of solid camel, brown and green army camo
Metal buttons provide great accents
Twin size
Set includes comforter, sham, bed skirt and throw pillow
Full/queen size
Set includes comforter and shams
Toddler size
Set includes comforter, sham and sheet set

Army Green Desert Camo Comforter Set
Twin and full sizes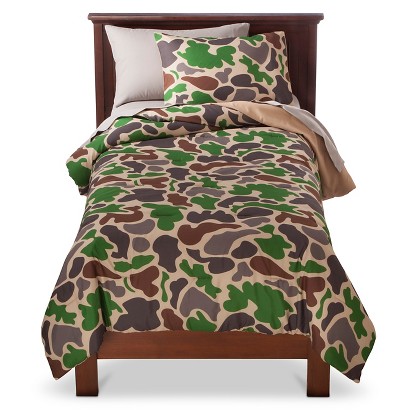 Circo Camouflage Comforter Set
At Target.com

Personalized Green Camo Bedding Set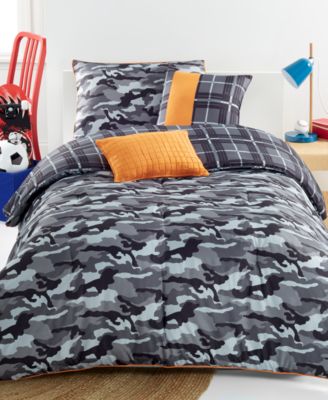 Brett Camouflage 5 Piece Comforter Sets
$140-$180 at Macy's
Reverses to a cool black plaid

Camo Bedding Set (Personalized)

Alpha Bravo Charlie Full / Queen Quilt with 2 Shams
This is one of my favorites, although it only has a little bit of camo in it. But perfect for a military bedroom.

Camouflage Army Childrens Bedding Set

Browning Buckmark Camo – Green – Comforter and Sham Set
I went back and forth on including this one. The camo pattern is appropriate for military, but if you look closely, you can see how they've incorporated a buck's head into the design. Which kind of takes us over to the hunting side. Your call.
Blue Military Camouflage Bedding Sets
Ranging from light to dark blues
I'm not entirely sure just what terrain blue camo is supposed to blend in with. I suppose they think – boys like camo, boys like blue, let's make blue camo. Whatever the case, it's a popular choice as a bedding design.

Circo Camo Bed Set – Blue
At Target.com

Classic Camo Quilt + Sham
At PBteen.com

Camo Duvet Cover
At PotteryBarnKids.com

Camo Duvet Cover + Sham, Navy • PBteen

Camo Quilt + Sham, Navy • PBteen

Rizzy Home RizKidz Camo Quilt Set
Twin size set
Includes quilt, sham and accent pillow
I'd suggest solid blue or tan sheets to coordinate

Blue Camouflage Kids Bedding Set

My Room Geo Camo Bedding Comforter Set
$59.88-$69.88 at Walmart.com
Kind of a blue gray color
Really like the different patterns within the camo
Twin and full sizes
Pink Camouflage Bedding
And a few other colors too, since there's not a great way of adding everything I find.

Pink Camo Bedding Set – Personalized

Mi Zone Mikey Comforter Set
At Kohls.com
Camouflage Sheet Sets
Stay hidden all the way to the core of the bed
Now, I'm not sure I'd want to pair up a set of camo sheets with a camo comforter. The JoJo design below is designed to coordinate with their bedding set, so it matches exactly and balances the camo and solid camel fabrics. But, if you aren't willing to redo the entire room in camouflage, a sheet set is a good way to bring in just a touch without a huge commitment.

Camo Sheet Set • PBteen

Green Camo Sheet Set
Twin size set
Coordinates with the bedding collection by Sweet Jojo Designs
Queen size set

Grey Camouflage Hunting Military Twin Bedding Sheet Set

Browning Buckmark Camo Green Sheet Set – Twin
Also in full size

Microfiber 800 TC Sheet Set – Army Green Camouflage

Blankets & Beyond Sheet Set Camouflage

Circo Camo Sheet Set – Blue (Full)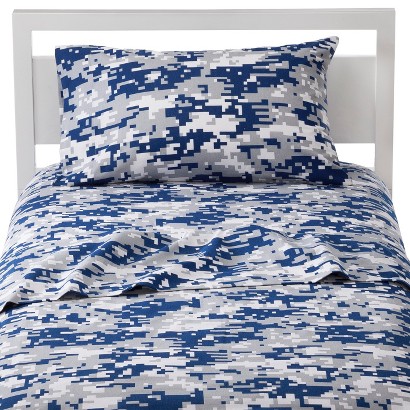 Circo Camo Flannel Sheet Set – Blue (Twin)
Camouflage Toddler Bedding

Garanimals Camo Dreams 4-Piece Toddler Bedding Set
$22.61 at Walmart.com

Summer Infant Camo Toddler 4-Piece Bedding Set – Boy
Disclosure of Material Connection: Some of the links in the post above are affiliate links. This means if you click on the link and purchase the item, I will receive an affiliate commission, probably enough to get a stick of gum. I generally only recommend products or services on this blog that I would use personally and believe you will find cool as well. I am disclosing this in accordance with the Federal Trade Commission's 16 CFR, Part 255: "Guides Concerning the Use of Endorsements and Testimonials in Advertising."