Flying in with a butterfly bedroom!
Butterflies are a favorite of many a little (and big!) girl. My mother loved them and had a butterfly on everything she could get away with.
Get everything you need to create a great butterfly bedroom with butterfly bedding sets for nurseries and big girl rooms. Lots of comforter and sheet sets with butterfly motifs in a wide range of colors that should fit in with whatever color scheme you have planned.
I've actually organized things by color so you can find the set you'd like to have to start your room off with. There are a great many in the pink and purple range, but some that offer other happy colors like yellow and blue.
Pink and Purple Butterfly Bedding

Fly Away Butterfly Print Kids Bedding
At LandofNod.com

Dream Factory Butterfly Dots Bed Set
At Kohls.com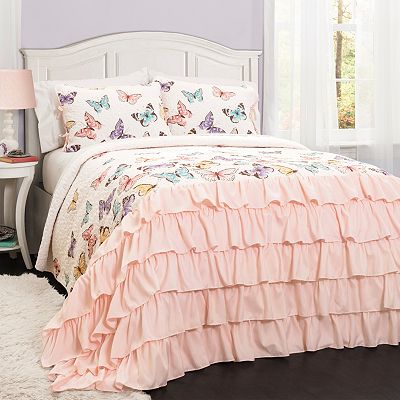 Flutter Butterfly Quilt Set
At Kohls.com

Dream Factory Sweet Butterfly Comforter Set
At Walmart.com

6 Piece Comforter Set
At Amazon

Butterfly Purple Blue/Turquise Comforter Set
At Amazon

Pink Princesses Butterfly Duvet Cover Set
At Amazon

Green World 2 Piece Kids Bedspread
At Amazon

LELVA Butterfly Pattern Cotton Bedding
At Amazon

LELVA Rose Butterfly Pattern Bedding
At Amazon

Butterfly Dance Quilt Set
from: Wayfair

Butterfly Song IV Duvet Cover from DiaNoche Designs

Butterfly Single Bedding
At Children's Rooms UK

Butterfly Dance Quilt Set
At Wayfair

Pam Grace Creations Twin Bedding Set, Lavender Butterfly

Pink and Orange Butterfly Collection Childrens Bedding 4pc Twin Set by Sweet Jojo Designs

Pink and Purple Butterfly Collection Childrens Bedding 4pc Twin Set by Sweet Jojo Designs
Blue, Green and Yellow Butterfly Bedding

Reversible Printed Butterfly Microfiber Kids Bed In Bag Set
At Amazon

Circo Girls Butterfly Flutter Bed in a Bag
At Amazon

EsyDream Butterfly Print Duvet Cover
At Amazon

Butterfly Duvet Cover Set

Amazing Butterfly Dress Print 4-Piece Princess Polyester Duvet Cover Sets
from: BeddingInn.com

Colorful Butterfly Fairy Tale Duvet Cover Set
Multi-colored Butterfly Bedding

Butterfly Comforter Set
At Amazon
Yay for orange!! Includes the bright orange sheets

DENY Designs Randi Antonsen Sommer 66 Duvet Cover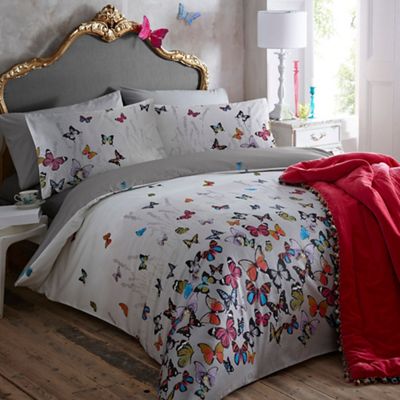 Light grey 'Butterflies' bedding set
At Debenhams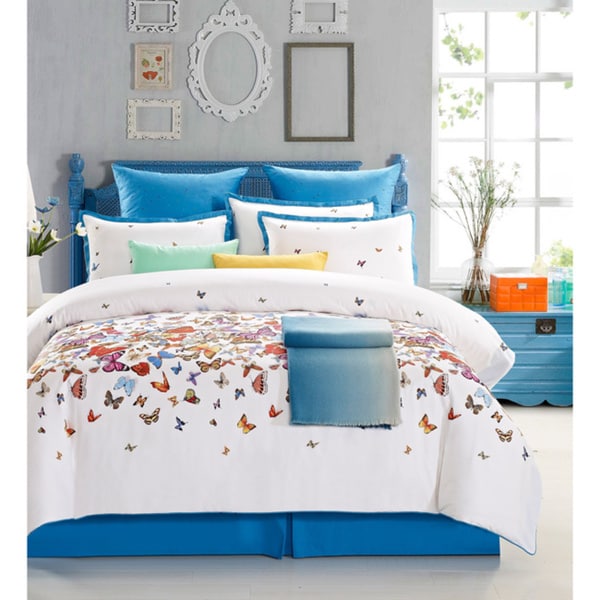 EverRouge Butterfly 8-piece Cotton Comforter Set
At Overstock.com
Neutral Butterfly Bedding

Lala + Bash Malar Butterflies Reversible Comforter Set
at Bed Bath & Beyond

LaLa + Bash Wink Butterflies Reversible Comforter Set
at Bed Bath & Beyond
Butterfly Sheet Sets and Pillowcases

Organic Butterfly Twin Sheet Set
from: The Land of Nod

Circo Flutter Sheet Set
At Target.com

Floral Butterfly Garden Sheet Set
At Amazon.com
Twin-king sizes

Fancy Linen Collection 3 PC Butterfly Purple Blue/Turquise Sheet Set
At Amazon

Serendipity Collection Sheet Set – Pink Annabella Butterflies
At Amazon

Melanie & Max Bay Linens Butterfly Twin Sheet Set

Twin 3-piece Colorful Butterflies and Pink Polka Dots Sheet Set Soft Lightweight Microfiber
Disclosure of Material Connection: Some of the links in the post above are affiliate links. This means if you click on the link and purchase the item, I will receive an affiliate commission, probably enough to get a stick of gum. I generally only recommend products or services on this blog that I would use personally and believe you will find cool as well. I am disclosing this in accordance with the Federal Trade Commission's 16 CFR, Part 255: "Guides Concerning the Use of Endorsements and Testimonials in Advertising."