Bedding to work with a canopy bed
Whether it matches the comforter or is netting draped over the bed, a canopy is the ultimate girly bedding concept. Canopies instantly add a touch of grown-up class to a bed and a sense of the tropics with netting. Some of the canopies below require an actual canopy bed, some can be hung from the ceiling to simulate the canopy feel.
Your choices in canopies fall into three camps, really. You have the ones that coordinate with the comforter and are meant to go on a canopy bed frame, like the line in the picture here. Then you have the ones that kind of hang from bed posters and can be bought separately from bedding, typically in netting. (Great idea for a safari bedroom!) Then there is the recent addition of a net canopy that hangs from a single point in the ceiling and the canopy flows from a circle just below. Easy way to add some texture and color to a room.
Canopy Bedding Sets

Wildon Home Flower Field E-Z Bedding Collection
$146.95 at Wayfair

Butterfly Princess Canopy Bedding
$349 at aBaby

Pink Zebra Princess Canopy Bedding
$349 at aBaby
Bed Canopies

Sparkling Lights Canopy
$99 at HearthSong

Kathy Ireland Home by Hallmart Princess Twin Canopy Cover
$40 at Wayfair
Net Canopies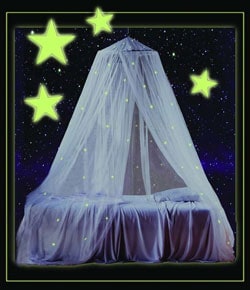 Glow in the Dark Canopy
$32.69 at Overstock

Casablanca Oasis Round Bed Canopy
At Kohls.com

Casablanca Palace Four-Poster Bed Canopy
At Kohls.com

Kathy Ireland Home by Hallmart Kathy Ireland Americana Canopy Netting
$30 at Wayfair
Available in pink, lavender and white
Pink Net Canopies

Three Cheers For Girls! Fantasy Bed Canopy in Pink
$25 at Wayfair
Also available in purple
Disclosure of Material Connection: Some of the links in the post above are affiliate links. This means if you click on the link and purchase the item, I will receive an affiliate commission, probably enough to get a stick of gum. I generally only recommend products or services on this blog that I would use personally and believe you will find cool as well. I am disclosing this in accordance with the Federal Trade Commission's 16 CFR, Part 255: "Guides Concerning the Use of Endorsements and Testimonials in Advertising."