Disney Frozen Bedding with Elsa and Anna
Reunite Anna and Elsa from Disney's latest movie Frozen on some cool bedding. (Ha. Cool. Get it?)
Even though both girls wear blues, this bedding is full of pink and purple colors. If you'd like, you could add smaller touches to the room with the pillows or blankets, or even some great Frozen decor items.
There are/were three options for comforters. Two in pink with images directly from the movie – Sister Love where Anna isn't wearing a cape and a general one where she is. The other is a more artistic rendering on a blue background with tons of purple flowers that was originally carried at Target. The Sister Love one is pretty much impossible to find now unless you want to pay a bajillion bucks. You can find the blue one all over eBay, though.
We're starting to see a ton of choices now, which is great. And don't forget you can grab some great Frozen fabrics as well if you'd like to make your own bedding or accessories.
Disney Frozen Bedding

Disney Frozen Melt My Heart Reversible Comforter
At Kohl's

Disney Frozen Melt My Heart Sheets
At Kohl's
Nothing very Frozen-specific about the sheets, although the pillowcases do have Anna and Elsa on them. It just coordinates with the comforter above. (And quite nicely, I think.)

Frozen Floral Breeze Twin/Full Reversible Comforter
$29.88 at Walmart.com

Frozen Floral Breeze Sheet Set
$19.88- $29.88 at Walmart.com

Disney Frozen, Single Bedding – Crystal
£15.95 at Children's Rooms UK
Double size also

Disney Frozen, Single Panel Bedding – Crystal
£22.95 at Children's Rooms UK

Disney 64 by 86-Inch Frozen Celebrate Love Comforter, Twin

Disney's Frozen Sister Love Polyester Sheet Set

Disney Frozen Sheet Set Anna & Elsa – Twin
$21.99 at Target.com
Pillowcase has Anna on one side and Elsa on the other
I found these next two over at AmazonUK, although it said they were out of stock when I first found them. Worth keeping an eye on.

Disney Frozen Elsa Single Duvet Cover and Pillowcase Set

Character World 135 x 200 cm Disney Frozen Elsa Single Panel Duvet Set, Multi-Color
Olaf Bedding
Starting to see a lot more options that feature just Olaf with tons of blue and snowflakes. Not sure if it's to appease the boys – I'd expect to see Kristof and Sven as well, then – but they are pretty cool. (Ha. Cool.)

Disney Frozen, Single Panel Bedding – Olaf
at Children's Rooms UK

Disney Frozen, Single Rotary Bedding – Olaf
at Children's Rooms UK

Disney Frozen Olaf Sheet Set
At Target.com
Frozen Bedding on eBay
Some unique options I found on eBay. The first two blue ones on the US site, the white one with Anna and Kristof over on the UK site.
Frozen Pillowcases
Just a few of the many I found featuring the various cast members. Picked my favorites here, but you can click through to check out others.
 Anna Elsa Frozen Full Cast Olaf
Disney Frozen Pillows and Blankets

Disney's Frozen Elsa Palace 40″ x 50″ Silk-Touch Throw
At Walmart.com

Disney Frozen 'Anna in Spring' Blanket
$22.88 at Walmart.com

Disney's Frozen 50″ x 60″ Frozen Mink Sherpa Throw, Flower Sisters
At Walmart.com

Disney's Frozen 50″ x 60″ Frozen Mink Sherpa Throw, Snowman Dance
At Walmart.com

Frozen Olaf Fleece Blanket
at Children's Rooms UK

Disney Frozen Olaf Silk Touch Plush Throw
At Kohls.com

Disney Frozen Silk Touch Plush Throw
At Kohls.com

Disney Frozen Cold Hearted 48″ x 60″ Tapestry Throw
$16.96 at Walmart.com

Frozen Storybook Tapestry Throw
$69.99 at Kohls.com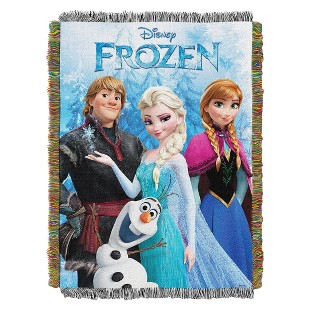 Disney Frozen Tapestry Throw Blanket
$28.49 at Target.com

Disney Frozen Fleece Blanket – Crystal
£9.95 at Children's Rooms UK

Disney's Frozen Love Anna Blanket
$34.99 at Hayneedle

Disney Frozen Napmat
At Walmart.com

Disney Frozen Strong Bond Micro Raschel Blanket, 62 by 90-Inch

Disney Frozen Olaf Cuddle Pillow
At Kohl's

Disney Frozen Queen of Ice Tapestry Throw
At Kohl's

Disney Frozen Loving Sisters Anna and Elsa Micro Raschel Throw

Disney Frozen Anna & Elsa Twin Blanket Queen of the North Mountain 59 X 78 Inches

Frozen Royal Plush Raschel Throw 50X60 inches– Family Forever

Disney Frozen Olaf Baby Blanket with Sherpa

Disney Frozen Heart Pillow Elsa and Anna

Disney Frozen Anna & Elsa Twin Blanket 59 X 78 Inches
Disclosure of Material Connection: Some of the links in the post above are affiliate links. This means if you click on the link and purchase the item, I will receive an affiliate commission, probably enough to get a stick of gum. I generally only recommend products or services on this blog that I would use personally and believe you will find cool as well. I am disclosing this in accordance with the Federal Trade Commission's 16 CFR, Part 255: "Guides Concerning the Use of Endorsements and Testimonials in Advertising."