Life is a dream come true with Disney Princesses
Sleeping Beauty, Snow White, Cinderella, Ariel, Belle and Jasmine – the Disney princesses have delighted little girls for generations. Now your little princess can have the room of her dreams with Disney princess bedding and accessories. There are even tons of choices with the newest additions to the group – Rapunzel, Merida and Tiana!
The focus of this collection is definitely on the princesses as a group. There are other pages that feature bedding with just a single princess if that's the direction you'd rather go.
And boy – I hope you like pink. Because that's the color you get with Disney Princess. Pink, pink and more pink. It's the typical background color for all of these bedding sets, with usually three of the girls featured in the center. That's the fairly standard set-up for these bedding sets. Upside is there are usually lots of secondary colors to work with – blue, purple, green, yellow for the most part. The most common trio is Cinderella, Bell and Aurora, probably because they closely align with the primary colors. It's rare to see Snow White, unfortunately. I think because she never gets a fancy ball gown in the movie.
If you aren't ready to invest in a bedding set, do take a look at the cool pillows and blankets, which can be used to provide a princess touch to any other bedding set. Given the wide range of colors in the dresses the girls wear, you can easily make existing bedding fit into the theme.
Disney Princess Bedding Sets
Get ready for pink!
What'd I tell you? Pink and more pink. The newer sets are starting to feature four princesses, though, at least on sets for bigger beds. In most cases, you'll see flowers and scroll work and castles worked into the designs as well.
The use of different princesses does allow some leeway in how you decorate the rest of the room, fortunately. You can work with the colors from the gowns they wear in putting other items around the room, or choosing what the wall color could be.

Disney Princess Reversible Comforter
At Kohls.com

Princess Daydreams Comforter
At Target.com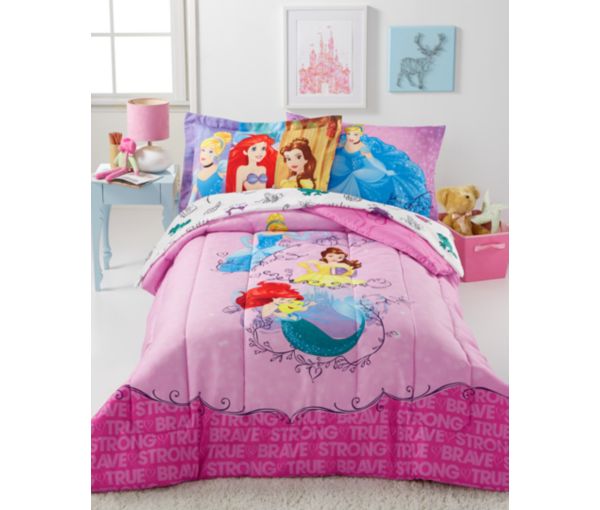 Disney® Princess Friendship Adventures 7-Pc. Bedding Collection
At Macys.com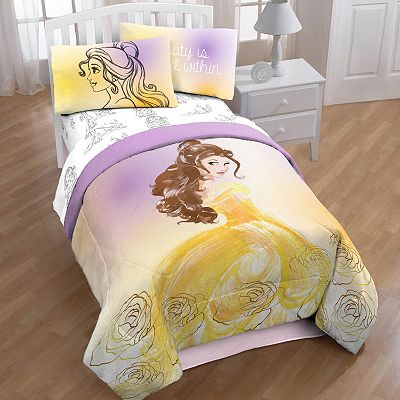 Disney/Jumping Beans Belle Comforter
At Kohls.com

Dreaming Princess Comforter
At Amazon.com

Disney Princess Dream Duvet Cover
At Amazon.com
Features Rapunzel, Cinderella and Belle

Blue Disney Princess Comforter
At Amazon.com

Disney Princess Boulevard Duvet Cover and Pillowcase Set
At Amazon.com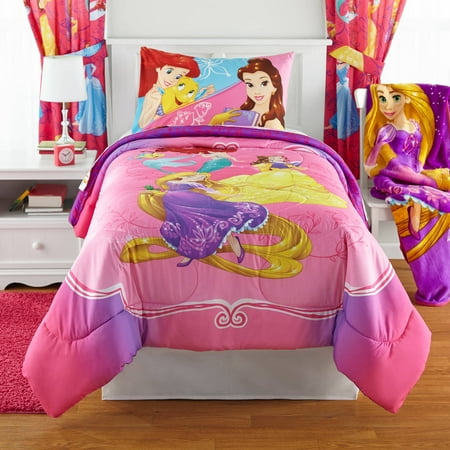 Disney Princess Bedazzling Princess Reversible Twin/Full Bedding Comforter
At Walmart.com

Disney Princess Palace Pets Paws Single Panel Duvet Set
At AmazonUK

Disney Princess Sparkling Elegance Comforter and Sheet Bedding Set

Disney Princess 'Locket' Rotary Single Bed Duvet Quilt Cover Set
The mostly white background makes this a good one up against pink walls

Character World 135 X 200 Cm Disney Princess Wishes Single Panel Duvet Set

Disney Princess Twin Comforter
Disney Princess Sheet Sets
Great options alone or paired with bedding
A few more white backgrounds available here, since they're meant to pair with the pink bedding above. Check the names to match them up with the bedding sets (it's a game!).

Disney Princess Sheets
At Kohls.com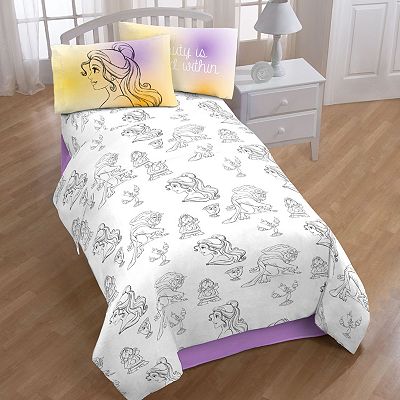 Disney/Jumping Beans Belle Sheet Set
At Kohls.com

Disney Princess Sheet Set
At Amazon.com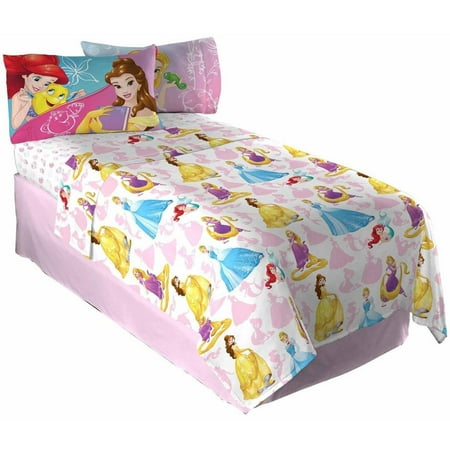 Disney Princess Bedazzling Princess Bedding Sheet Set
At Walmart.com

Disney Princess Fairy Dreams Bed Sheets

Disney Princess Dreams in Bloom Sheet Set

Disney Princess Castle Dreams 2-Piece Sheet Set
Pillowcases says "Pure Princess"

Disney Princess Magical Garden Twin Sheet Set

Disney Princess Style Pink Twin Sheet Set
Disclosure of Material Connection: Some of the links in the post above are affiliate links. This means if you click on the link and purchase the item, I will receive an affiliate commission, probably enough to get a stick of gum. I generally only recommend products or services on this blog that I would use personally and believe you will find cool as well. I am disclosing this in accordance with the Federal Trade Commission's 16 CFR, Part 255: "Guides Concerning the Use of Endorsements and Testimonials in Advertising."