Hawaiian Bedding
Palm trees, hibiscus flowers, gentle breezes
Create your own relaxing getaway with these Hawaiian bedding sets. From hibiscus flowers to surfboards to palm trees, no part of the island experience is forgotten.
I've separated this page out with the bright colored floral designs sure to please a young girl (or me!) at the top, moving then into more grown-up looks like the palm tree set in the picture here. You'll find lots of palms and hibiscus flowers among the designs, making this probably a little more feminine than it necessarily has to be.
Floral Sets
A lot of bright colors here bringing together tropical flowers with solids and plaids for the most part.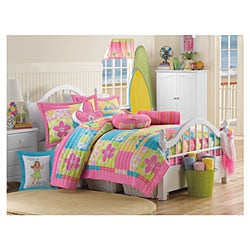 Hula Girl Quilt Set
$59.99 at Overstock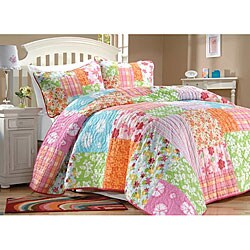 Aloha Multicolor Quilt Set
$89.99 at Overstock

OP Hibiscus Lounge Bed In A Bag
$59.98-$69.98 at Walmart.com
Grown-Up Designs
Flush florals and palms to remind you of the islands
The styles here are a wee bit more serene, which doesn't make you automatically think of a child's space. Still, the more subdued designs can be a great backdrop for them, especially if going with a retro hula type look.

Trinidad Bedding Set in Khaki
$580.00 at Wayfair
Pillows & Blankets

Red Hibiscus Pillow
Choose from square or rectangle shapes

Yellow Hibiscus Flower Pillow
Choose from square or rectangle shapes
Disclosure of Material Connection: Some of the links in the post above are affiliate links. This means if you click on the link and purchase the item, I will receive an affiliate commission, probably enough to get a stick of gum. I generally only recommend products or services on this blog that I would use personally and believe you will find cool as well. I am disclosing this in accordance with the Federal Trade Commission's 16 CFR, Part 255: "Guides Concerning the Use of Endorsements and Testimonials in Advertising."