Hello Kitty Bedding and More
What little girl (or big girl, for that matter!) wouldn't love a room filled with her favorite kitty friend? Find everything you need in Hello Kitty bedding to create a great centerpiece for the room, like the collage bedding set in the picture. Your girl's bedroom will be complete! Decorating a kid's room has never been so easy.
Yes, I do occasionally run across queen-size Hello Kitty bedding sets, but not often. If there's one I know of at the moment, it'll be on the page. They don't show up often, unfortunately, and I've never just seen one in a king size.
Hello Kitty Bedding Sets
Tons of pink, of course!
Shouldn't be a surprise that pink is the most popular color offered here. We are talking about generally girly type bedding, after all. There are some great graphical and modern looking sets, as well as ones with tons of ruffles. Tons of ruffles.
The biggest variation besides style and color is how the Hello Kitty design is executed. Occasionally, you get smaller print designs with lots of HK repeated all over. More commonly (and usually more attractively, in my book), there's a large Hello Kitty graphic as the central focus of the bedding.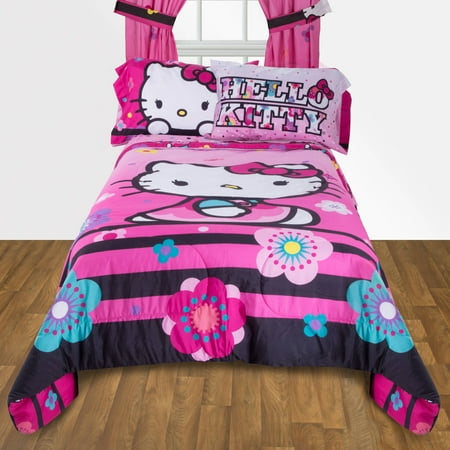 Hello Kitty Floral Ombre Reversible Twin/Full Bedding Comforter
At Walmart.com

Hello Kitty Comforter
At Target.com

Hello Kitty Bedroom Set
At Amazon
Twin, Queen or King size

Hello Kitty Pink Leopard Duvet Cover Set
At Amazon
Twin or Queen

HELLO KITTY duvet set
At Amazon
Full or Queen size

HELLO KITTY duvet set
At Amazon
Twin, Queen or King size

HELLO KITTY duvet set
At Amazon

HELLO KITTY duvet set
At Amazon

Character World Hello Kitty Hearts Single Panel Duvet Set
Available at AmazonUK
Reverses to pattern with HK heads, hearts and bows

Character World 135 x 200 cm Hello Kitty Hearts Single Rotary Duvet Set
Available at AmazonUK

Character World Hello Kitty Folk Single Panel Duvet Set
At AmazonUK

Character World Hello Kitty Folk Junior Panel Duvet Set
At AmazonUK

Sweetheart Bedding Set (Toddler) 4pc – Hello Kitty
At Target.com
Hello Kitty Sheet Sets
For your secret HK love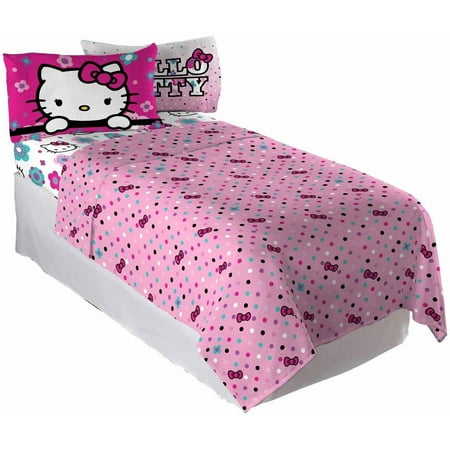 Hello Kitty Floral Ombre Bedding Sheet Set
At Walmart.com

Hello Kitty Sheet Set
At Target.com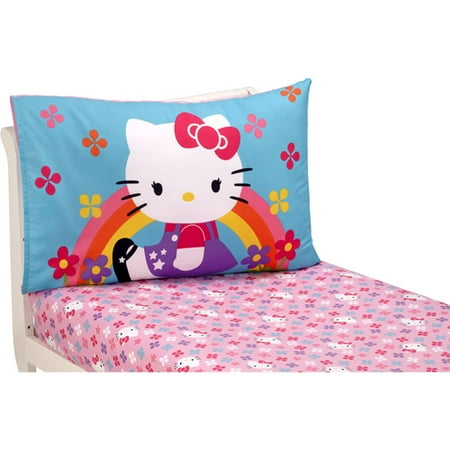 Hello Kitty Stars and Rainbows 2-Pack Toddler Sheet Set
At Walmart.com

Hello Kitty Peace Love Sanrio Sheets Set
At Amazon

Hello Kitty Sweet & Scented Twin Sheet Set
At Amazon

Hello Kitty Daisy Dance Twin 3 Piece Sheet Set
At Amazon

Hello Kitty Bed Sheet Bedding Sets
At Amazon

Hello Kitty "Kitty and Friends" Sheet Set – Twin

Hello Kitty Arcoiris 3 Piece Sheet Set (Twin)

SANRIO Hello Kitty I Heart Nerd Microfiber Sheet Set
Disclosure of Material Connection: Some of the links in the post above are affiliate links. This means if you click on the link and purchase the item, I will receive an affiliate commission, probably enough to get a stick of gum. I generally only recommend products or services on this blog that I would use personally and believe you will find cool as well. I am disclosing this in accordance with the Federal Trade Commission's 16 CFR, Part 255: "Guides Concerning the Use of Endorsements and Testimonials in Advertising."