Whoo, whoo, whoo … it's owl bedding!
Owls are a hot design trend right now, especially styled like the owls that were popular back in the 50s and 60s. (I had a huge owl necklace back in elementary school that I saw for sale again just the other day.) Retro, retro, retro! So it's no surprise that owl bedding is plentiful and in such incredibly cool styles.
Check out options in pink, pink and more pink, as well as some cool browns and blues. Whether you go for a bedding set with one big owl or a print with lots of small owls, your owl bedding is going to be beautiful!
I personally tend to like designs that have tons of owls and colors. It's a Valentina Ramos design that incorporates a cartoony style that works for young girls or picky teens. Plus – it uses a ton of colors, making it easy to find a color your girl will like no matter what changes in taste she's going through. There's a nice dark brown to serve as your neutral, then several shades of orange, pink, blue green and brown to choose from for your walls and accessories.
Pink Owl Bedding
Mostly paired with greens and blues
I've got these front and center because, well, owls seem to be a girl thing, really. Most of what you see in the trend these days seems to fall in the cute and pink category. These bedding sets involve a lot of pink, so totally appropriate for a girl's bedroom scheme. (Oh, and yes, there is one purple!)

Striking Sara Microfiber Bedding Set
At Target.com

FADFAY Home Textile Owl Print Duvet Cover Set

Nina Girls 'Cool' Bedspread Set

Laura Hart Owl Stripe Quilt Set
At JCPenney.com

Hoot Hoot Kids Duvet Cover
At The Company Store

Owl and Flower Print 4-Piece Cotton Duvet Cover Sets
from: BeddingInn.com

Everything Kids Toddler Bedding Set, Hoot Hoot

Carter's Too Cute To Hoot Toddler Set

Sweet Dreams Owl by Nursery To Go
Get it at Amazon.com
3 Piece Twin Set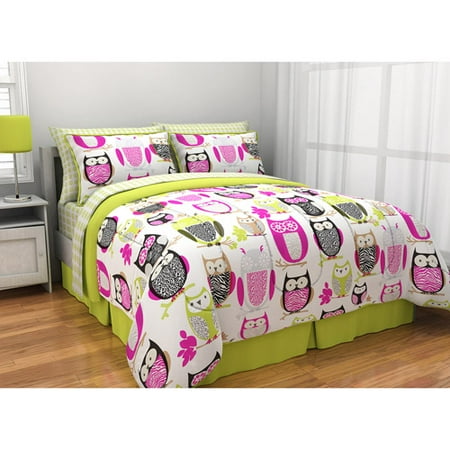 Latitude Sketchy Owl Reversible Bed in a Bag
At Walmart.com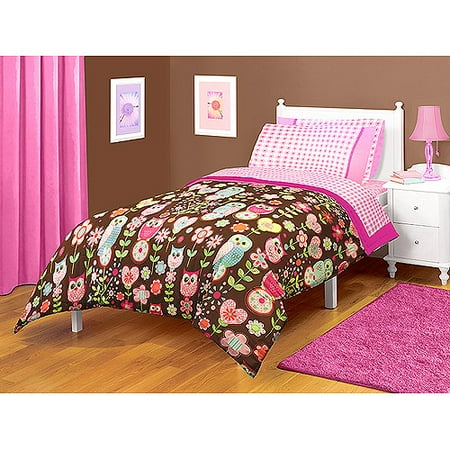 American Kids Owl Twin/Full Microfiber Bedding Comforter
At Walmart.com

Twin Owl Friends Comforter set
At Amazon.com

OWL Bedding
At Amazon.com

Pink Happy Owl Kids Bedding by JoJO Designs
Twin size set
Also available in full/queen size set

DENY Designs Valentina Ramos Cute Little Owls Duvet Cover

DENY Designs Sharon Turner Light Sherbet Owls Duvet Cover
Owl Bedding Sets
More neutral colors and designs
Now, these aren't pink owl bedding sets, but that doesn't always make them boy appropriate. That first set is technically blue and green, but I would so call it a girly color combination. Still, when you move into the mostly brown or mostly blue sets, your boy might approve.

LOVO KID'S Best Friends Owl Bedding Set
At Amazon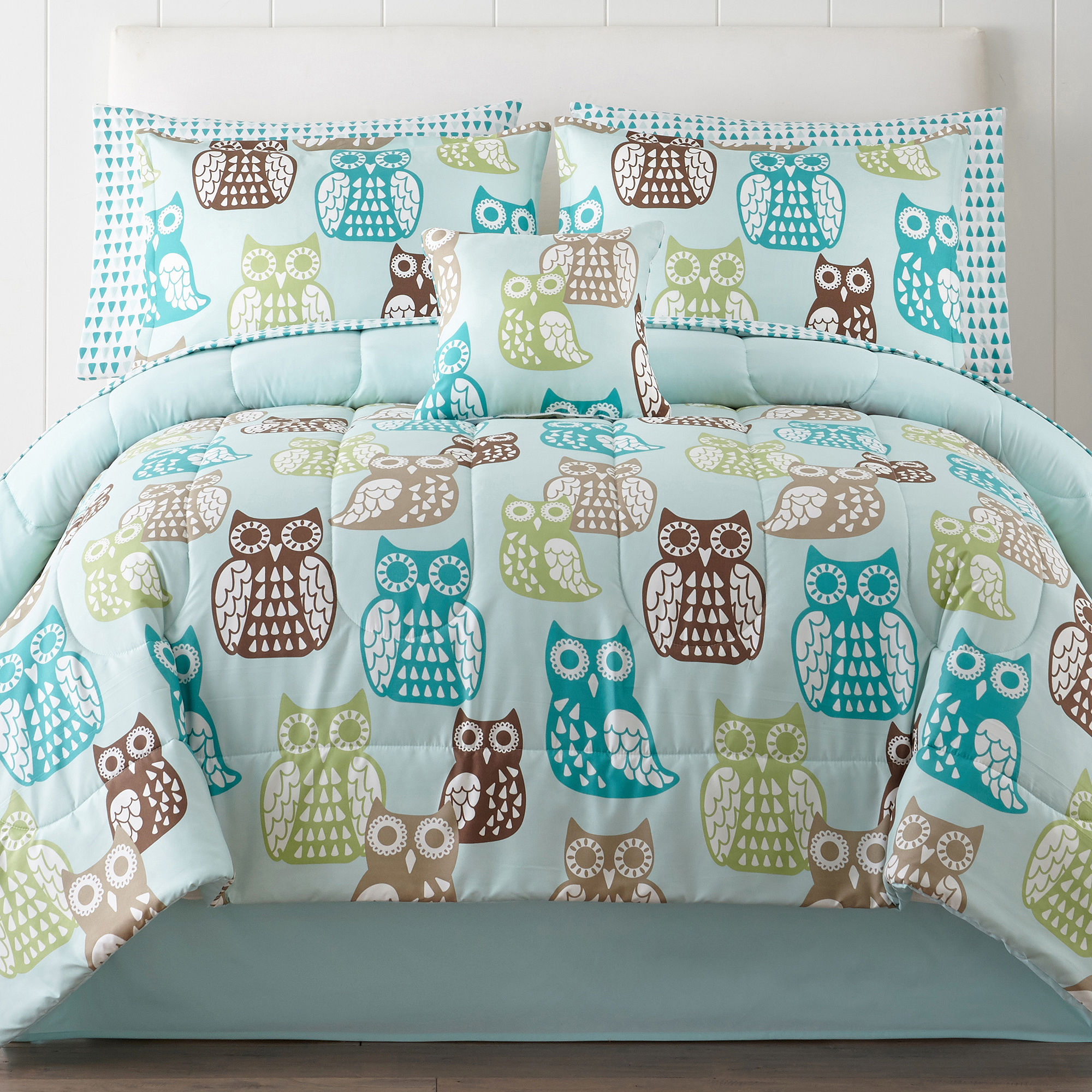 JCPenney Home Owl Comforter Set
At JCPenney.com

Moonlight Owl Cotton Quilt Set
At Plow & Hearth
Twin, full/queen and king sizes

Cliab Owl Bedding
At Amazon.com

Turquoise Owl Bedding
At Amazon.com

Cartoon Owl Bedding Set
At Amazon.com

Cartoons Owl Duvet Cover Set
At Amazon.com

Cartoon Owl Print Kids Bedding Set
At Amazon.com

Cliab Owl Bedding Kids Duvet Cover Set
At Amazon.com

Night Owl Childrens Bedding

DENY Designs Heather Dutton Owl Town Teal Duvet Cover

DENY Designs Sharon Turner Sherbet Owls Duvet Cover

DENY Designs Mandy Hazell Owl Love You Duvet Cover
Owl Sheet Sets
In case you want to keep your birds under covers
If you don't want to invest in changing the main bedding, add a touch of owl to the sheets instead. New sheets are always a nice thing to have! The set from The Land of Nod by far my favorite, just because of the pink-trimmed ruffle. Too cute!

Hoot Hoot Kids Sheets
At The Company Store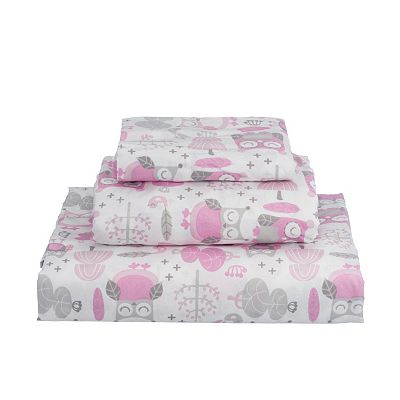 Daniella Sheets
At Kohls.com

LivingQuarters 225-Thread Count Cotton Percale Owl Sheet Sets
At Amazon.com

Grey Gray Teal OWL twin sheet set
At Amazon.com

kids collection sheet set owl print
At Amazon
Owls in pinks and purples

Owl Sheet Set
At Amazon

kute kids owl sheet sets
At Amazon
Disclosure of Material Connection: Some of the links in the post above are affiliate links. This means if you click on the link and purchase the item, I will receive an affiliate commission, probably enough to get a stick of gum. I generally only recommend products or services on this blog that I would use personally and believe you will find cool as well. I am disclosing this in accordance with the Federal Trade Commission's 16 CFR, Part 255: "Guides Concerning the Use of Endorsements and Testimonials in Advertising."