Sprinkle a little fairy dust with Tinker Bell Bedding
If your little girl is in to Tinkerbell and the Disney Fairies (like my niece!), it's likely she'd love some bedding to do up her room. It's an easy way to set the theme for the room with one big piece.
Start building your room theme with a comforter set, blankets, pillows and sheets, making the bed the centerpiece of the room. You'll find a wide range of colors are being used these days – from pinks and purples to a lot of aqua. That's mostly because of the addition of Tinker Bell's sister Periwinkle to the mix. Linens with all the Disney Fairies tends to show more flexibility with colors thanks to the mix they bring, but when it's just our favorite pixie, you can pretty much count on pink or purple.
Tinker Bell Bedding Designs
The newest bedding designs tend to revolve around Tink and her sister Periwinkle, whom she just discovered in the latest movie. I love Periwinkle's colors, although I don't think the aqua goes with Tink's bright green so well!
The motifs surrounding the designs tend toward tons of flowers and butterflies. Might be my imagination, but the butterflies seem to becoming more common and prominent these days. Definitely trying to associate them with the fairies in general, which makes sense.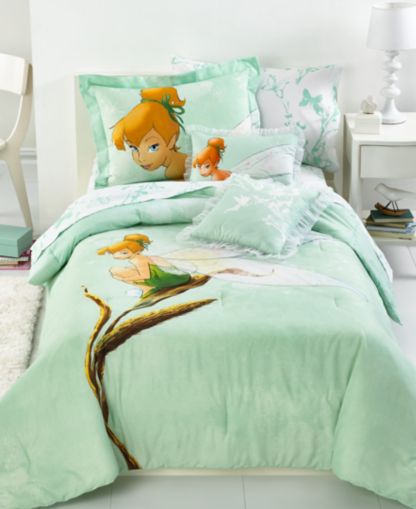 Mint Green Watercolor Comforter Set
So loving this one! From the soft green to the more elegant drawing, just beautiful.

Disney Fairies Comforter
Focus on Tink on the comforter with the rest of the crew showing up in other ways

Disney's Fairies Floral Frolic Twin/Full Reversible Comforter
$37.97 at Walmart.com

Imagine Single Panel Duvet Set
Available at AmazonUK
Eligible for shipping to the US

Tinker Bell Bedding Collection
Includes reversible comforter, pillowcase, curtain and artwork

Disney Tinkerbell Fairy Wonder Bedding Set

Disney Fairies Tinkerbell 4pc Twin Reversible Comforter and Sheet Set Bedding Collection
States "Just be yourself" in the design

Disney Fairies Twin Bed Comforter Tink Magic Art Blanket

Disney Fairies Swirl Twirl Butterfly Twin Bed Comforter

Disney Fairies Twin Quilt
Tinker Bell Sheet Sets
The first two here coordinate with comforter sets from the top of the page. Others are stand-alones or went with older bedding that isn't available anymore. Still cute, though!

Disney Tinkerbell 'WaterColor' Full Size Sheet Set with Pillowcases Fairies

Disney's Fairies Floral Frolic Sheet Set
$21.97-$27.97 at Walmart.com

Disney Fairies be Yourself Sheet Set, Twin

Disney Fairies Flower Magic Art 3pc Twin Bed Sheet Set
Pillowcase with Tink says "Magic is where you least expect it"

Disney Fairies Rotary Flying High Sheet Set, Twin

Disney Tinkerbell Traditions Full Sheet Set

Tinkerbell Optic Mix Twin Sheet Set

Disney Fairies Tinkerbell with Ladybugs & Butterflies Twin Sheet Set

Disney Fairies Tinkerbell Twin Sheet Set

Disney Tinkerbell Fairy "Fairies & Flowers" Twin Size 3 Piece Sheet Set

Disney Fairies Tinkerbell Twin Sheet Set Sugar Tink

Disney Fairies TinkerBell Whimsy Tink Twin Sheet Set

Disney Tink Surreal Garden Full Sheet Set

Disney Fairies Tinkerbell Butterfly Glow 4pc Full Size Premium Sheets Set
Toddler Tinker Bell Bedding Sizes

Disney Tinkerbell – 4 Piece Toddler Set
At Target.com

Disney Tinkerbell FLOWER WHISPERER Satin Quilted Comforter Toddler Bed Set

Disney Fairies Tinkerbell Toddler Set – Sheet & Pillowcase
Disclosure of Material Connection: Some of the links in the post above are affiliate links. This means if you click on the link and purchase the item, I will receive an affiliate commission, probably enough to get a stick of gum. I generally only recommend products or services on this blog that I would use personally and believe you will find cool as well. I am disclosing this in accordance with the Federal Trade Commission's 16 CFR, Part 255: "Guides Concerning the Use of Endorsements and Testimonials in Advertising."