Trumpeting these elephant crib bedding selections
Cute cartoon designs, elegant Indian styles, thundering herds of pachyderms – there are a lot of choices in elephant bedding!
This is a great nursery theme because it works for boys or girls and you have so many options. My favorite is definitely the line from Carter's shown here and it comes in several colors so you can pick the one that works best for your nursery. We're seeing a lot more modern designs like this one, as well as your typical cute choices.
I've picked out the most beautiful sets out there, focusing on ones that have just elephants rather than a collection of safari or jungle animals. You could add other animals in the decor if you like or keep it strictly in the theme.
Blue Elephant Crib Bedding Sets

Sweet Jojo Designs 11pc Crib Bedding Set – Mod Elephant
At Target.com

GEENNY Boutique Baby 13 Piece Nursery Crib Bedding Set, Blizzard Blue Grey Elephant
At Amazon.com

Koala Baby First Love 4 Piece Crib Bedding Set – Elephant – Navy/Light Blue
At Amazon.com

Lambs & Ivy 3-Piece Crib Bedding Set, Blue/White
At Amazon.com

Bacati Elephants 10-Piece Nursery in a Bag Crib Bedding Set
At Walmart.com
Pink Elephant Crib Bedding Sets

Bacati Elephants 10-Piece Nursery in a Bag Crib Bedding Set
At Walmart.com

Boutique Pink Gray Elephant 13pcs Crib Bedding Sets
At Amazon.com

Happy Chic Baby Jonathan Adler Party Elephant 4 Piece Crib Bedding Set, Pink/Orange/White
At Amazon.com

Modern Pink and Brown Mod Elephant Baby Girl Bedding 9pc Crib Set by Sweet Jojo Designs

SOHO Elephant Flutter Crib Nursery Bedding Set 14 pcs
Green Elephant Crib Bedding Sets

Mod Elephant – 4 Piece Crib Set

Laura Ashley Elephant Parade 7 Piece Crib Bedding Set
More Elephant Crib Bedding Sets

Lolli Living Naturi Crib Set

Trend Lab Waverly Baby Santa Maria 5 Piece Bedding Set
At Amazon.com

Natures Purest My First Friend 4 Piece Organic Cotton Baby Crib Bedding Set
At Amazon.com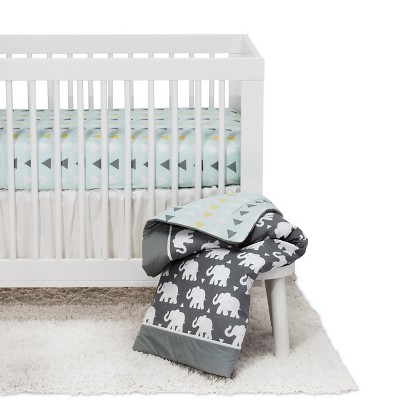 Pam Grace Creations Indie Elephant Crib Bedding Set
At Target.com

NoJo® Crib Bedding Set 8pc – Elephant Dream
At Target.com

Wild Excursion Elephant Baby Quilt
from: The Land of Nod

Lolli Living Naturi Quilted Comforter, Elephant Print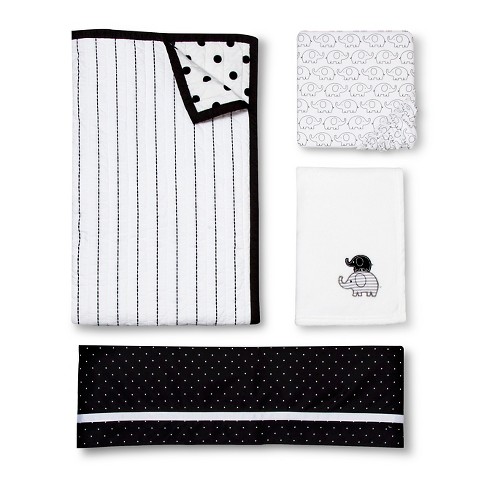 Circo® 4pc Crib Bedding Set Black & White Elephants
At Target.com

Taylor Nursery Bedding • Pottery Barn Kids
Disclosure of Material Connection: Some of the links in the post above are affiliate links. This means if you click on the link and purchase the item, I will receive an affiliate commission, probably enough to get a stick of gum. I generally only recommend products or services on this blog that I would use personally and believe you will find cool as well. I am disclosing this in accordance with the Federal Trade Commission's 16 CFR, Part 255: "Guides Concerning the Use of Endorsements and Testimonials in Advertising."