Head out under the ocean blue for the nursery
It's blue as far as the eye can see when you dive down into this ocean for your baby nursery. Whether you want a true royal blue or more of a Caribbean turquoise, these ocean crib bedding sets are blue, blue, blue.
Designs range from turtles to fish to seahorses to octopi. If it's in the ocean, you can probably find it on a crib bedding set. One of my favorites is the whales from Migi set. But you might want something different for your sea.
Blue Ocean Baby Bedding Sets

Aquatic Baby Quilt
from: The Land of Nod

Nautica Kids® Whale of a Tale 4-Piece Crib Bedding Set

SoHo Sea Life Baby Crib Nursery Bedding Set

Lambs & Ivy Bubbles and Squirt 5 Piece Bedding Set

Custom Baby Bedding – Under The Sea 14 Piece Set
Turquoise and Aqua Ocean Crib Bedding Sets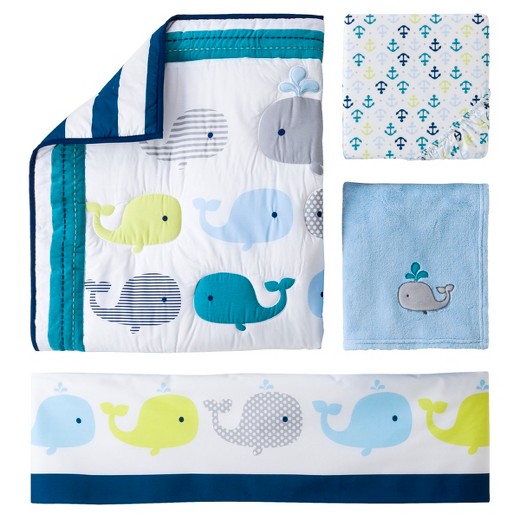 Circo™ 4pc Crib Bedding Set – Whales 'n Waves
At Target.com

Baby Bedding: Marine Life Octopus Crib Bedding – Marine Queen Crib Quilt – $119.00
from: The Land of Nod

Migi Little Whale 4 Piece Crib Bedding Set by Bananafish

Tropical Seas 4 Piece Crib Bedding Set
Brightly colored seahorses, fish and other small creatures on an aqua background
Includes changing pad cover, comforter, crib sheet and print crib skirt

Go Fish Crib Bedding Set
At aBaby.com

Boutique Beautiful Sea World Animals Crib Bedding Set

NoJo Little Bedding Ocean Dreams 3 Piece Crib Bedding Set
Pink Ocean Crib Bedding

Under the Sea 4 Piece Baby Crib Bedding Set by Carters
Ocean Crib Sheets

NoJo Little Bedding 2 Count Crib Sheet Set, Ocean Dreams

Nautica Kids Brody Nursery Bedding Collection (Crib Sheet – Whale Print)
Disclosure of Material Connection: Some of the links in the post above are affiliate links. This means if you click on the link and purchase the item, I will receive an affiliate commission, probably enough to get a stick of gum. I generally only recommend products or services on this blog that I would use personally and believe you will find cool as well. I am disclosing this in accordance with the Federal Trade Commission's 16 CFR, Part 255: "Guides Concerning the Use of Endorsements and Testimonials in Advertising."