Winnie the Pooh Crib Bedding
There are so many choices here! Which makes sense since Pooh is a pretty popular theme for nurseries. Bonus being how many Winnie the Pooh crib bedding sets come in neutral colors perfect for either gender. You'll find lots of browns and greens, which is interesting since Pooh and his friends are quite colorful.
Winnie the Pooh Crib Bedding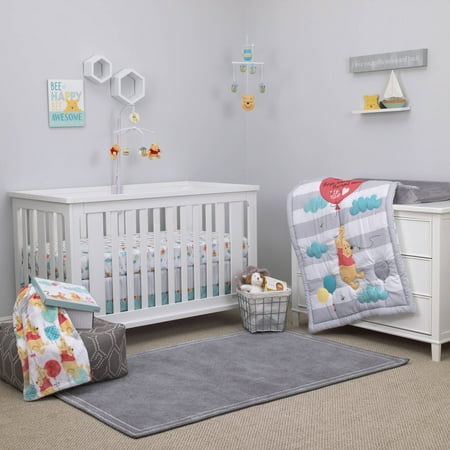 Disney Pooh Best Friends 4pc Crib Set
At Walmart.com

Disney Baby Peeking Pooh & Friends 7-Piece Crib Set

Pooh's Play Day 4 Piece Bedding Set

Pooh Together Forever 4-Piece Crib Bedding Set

Winnie the Pooh Crib Bedding Collection 4 Pc Crib Bedding Set
Love the neutral-ness (is that a word?) of this set. Great for pairing colorful plush figures and decor!

Disney Winnie the Pooh Crib Set for Newborn
At AmazonUK
Pink Winnie the Pooh Crib Bedding
Classic Winnie The Pooh Crib Bedding
Based on the original illustrations
Disclosure of Material Connection: Some of the links in the post above are affiliate links. This means if you click on the link and purchase the item, I will receive an affiliate commission, probably enough to get a stick of gum. I generally only recommend products or services on this blog that I would use personally and believe you will find cool as well. I am disclosing this in accordance with the Federal Trade Commission's 16 CFR, Part 255: "Guides Concerning the Use of Endorsements and Testimonials in Advertising."