Zig zag your way to style with this hot bedding design
It seems like everywhere you look these days, chevron patterns are covering everything! And bedding is no exception as this great pattern takes center stage on comforters, pillows and blankets. Grab some in a traditional monochromatic pattern or spice things up with lots of color running through the zig zags. Whatever your preference, there are lots of choices out there right now in chevron bedding sets!
Many times, the best chevron sets come with a limited color palette – white with one color, maybe one other. The zig zag of the chevron creates a lot of interest without the need for many colors. Still, you can't beat the bright and colorful designs on this page. If you want to get in on the trend on a budget, consider the pillows or a throw blanket. (Just had guests at my house and I swear, there are never enough blankets no matter how many I have!) These are less expensive than changing all the bedding and can be a nice way to add a new pattern to your mix.
[box title="More In This Theme" style="soft" box_color="#3BC5F3″ radius="5″]
Chevron Bedding
*
Chevron Crib Bedding
*
Chevron Pillows and Blankets
[/box]
Green and Blue Chevron Bedding Sets
Color ranges from the cool end of the spectrum
These are definitely great colors to start with in a bedroom, and these chevron bedding sets put them to great effect. You have options that pair with white for drama, use several shades of a hue for interest and all mono-chromatic to make a simple palette for your room. Add in some splashes of other colors around the room for more interest and drama or stick with the single color for a calmer decor.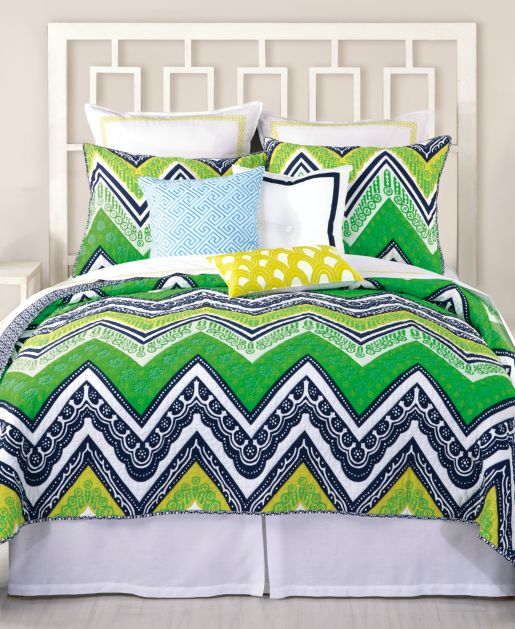 Trina Turk Bedding, Tangier Stripe Coverlet Collection
$139.99 at Macy's

Kess InHouse Catherine McDonald Winter Green Duvet
Super thick lines running sideways

MiZone Brooke Blue Comforter Set
$69.99 at Fingerhut

Kess InHouse Nick Atkinson Chevron Dance Blue Duvet Cover

Xhilaration Chevron Comforter Set – Turquoise
At Target.com

Luxury Home Chevron Bed-in-Bag Set
Twin-king sizes

Circo Chevron Quilt Set – Navy Blue/Gray
At Target.com
Red, Orange, Pink and Purple Chevron Bedding
Warmer colors add some spice and zip to these sets
>Distinctly girly designs in these colors, of course. The oranges can add a perky feel to the design, while pink and purple can be quite calm depending on how they are used.

Room Essentials Dot Chevron Comforter Set
At Target.com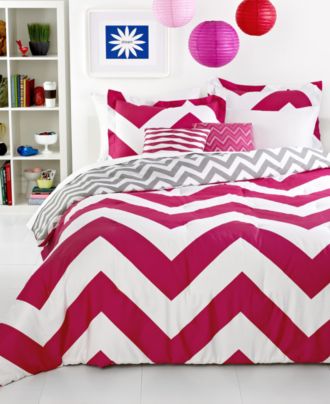 Chevron Pink 4 Piece Comforter Set
At Macy's

Mainstays Kids' Chevron Coordinated Bedding Set
At Walmart.com

Mia Duvet Cover Set Size: Twin
from: Wayfair

Latitude Azuki Bed in a Bag
At Walmart.com

Kess InHouse Nick Atkinson Chevron Dance Purple Duvet Cover

Jill Rosenwald Copley Collection Buckley Duvet Cover

Thumbprintz Duvet Cover, Pink Zig Zag
Multi-Colored Chevron Bedding
A little bit of this, a little bit of that
I am always a fan of bright and colorful, especially with kid's rooms. (Back when I painted, it wasn't difficult to convince parents to go that direction in a mural.) So these chevron bedding sets bring the bold and bright and beautiful by mixing lots of colors into their designs. They pull a little of the cool colors with blues and greens and a little of the warm colors with yellows and pinks, all to great effect. And it gives you tons of choices to play with when you pick colors for other elements in the room.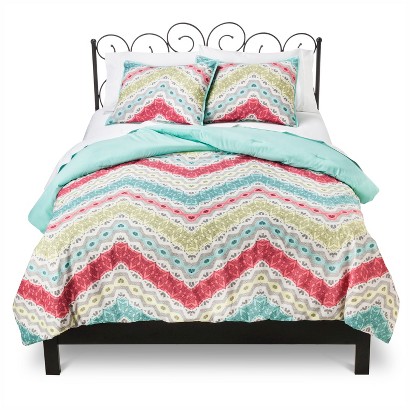 Xhilaration Chevron Comforter Set
At Target.com

Zig N Zag Duvet Cover + Sham • PBTeen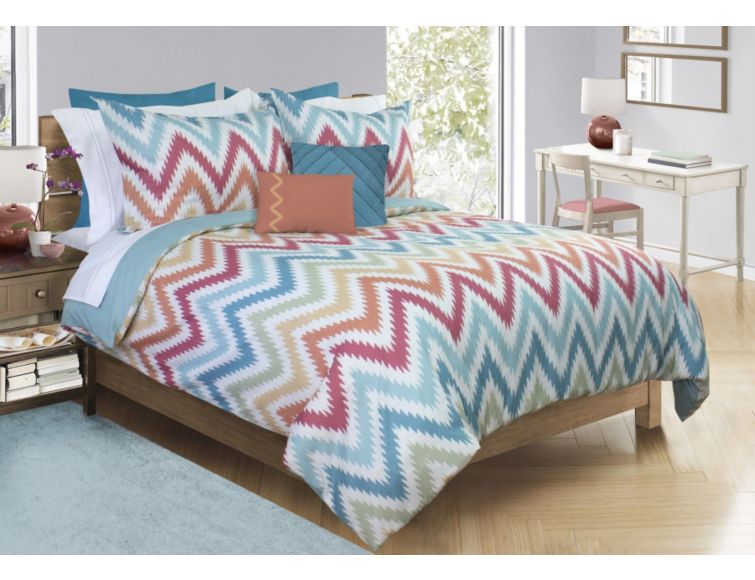 Allegra 3pc Printed Comforter Set
$49.99 to $69.99 at Fingerhut

DENY Designs Khristian a Howell Nolita Chevrons Duvet Cover

Kess InHouse Brittany Guarino Zig Zag Duvet Cover

Adorable Girl Yellow Pink Aqua Green Reversible Chevron Comforter Set

Retro Chevron Monogram Bedding Set (Personalized)
Neutral-Colored Chevron Bedding
Grays, blacks and browns keep these designs calm
Warmer browns can add some spark here, but for the most part, these neutral colors provide a calm backdrop to your bedroom. The smaller chevron patterns can be quite elegant, the bigger ones a bit childish.

Style Lab Charlize Reversible Bedding Comforter Set
$16.99-$29.88 at Walmart.com

Intelligent Design Eve Chevron Comforter Set • jcpenney

Chevron Duvet Cover + Sham, Light Gray • PBteen
Does come in brighter colors like yellow and blue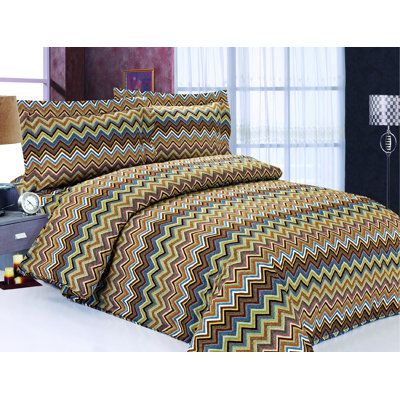 French Multi Weaves Luxurious Duvet Set Size: 39″ – $138.12
from: Wayfair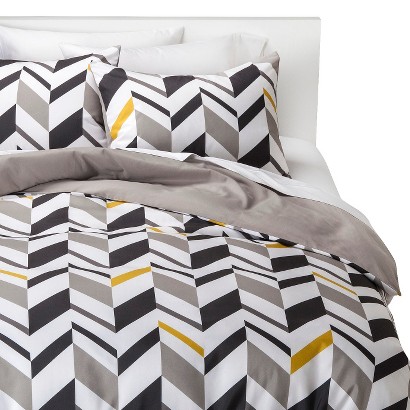 Room Essentials Chevron Duvet Cover Set
At Target.com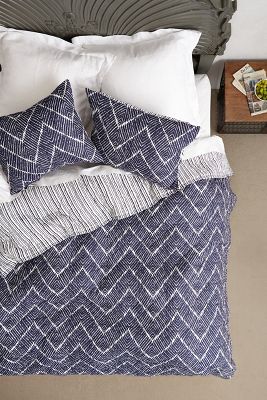 Talas Quilt
At Anthropologie

Better Homes and Gardens Comforter Set, Zig Zag
At Walmart.com

Uneekee Black Chevron Duvet Cover: Twin

Latitude Zig Zag Neon Bed-in-a-Bag Bedding Set
$49.88-$59.88 at Walmart.com
OK – a tiny splash of color in this one.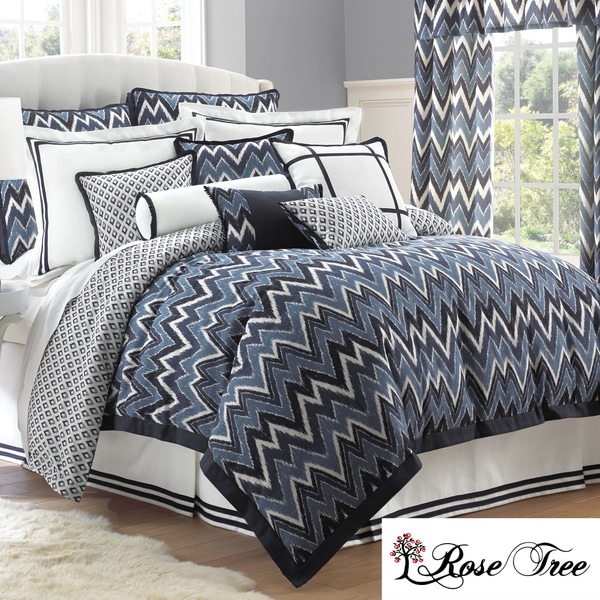 Rose Tree New Haven 6-piece Comforter Set
At Overstock.com

Missoni Home Janet Bedding
Prices start at $995.00 at Wayfair
Twin-king sizes
Choose from duvet cover or embroidered bedspread

DwellStudio Painted Duvet Set, Chevron Ink

Black and Gray Zig Zag Bedding Set
Includes comforter, sham, bed skirt and valance

Yellow and Gray Zig Zag Bedding Set
Includes comforter, sham, bed skirt and valance

Luxury Home 8-Piece Chevron Comforter Collection

Chevron Duvet Cover + Sham, Light Gray • PBteen
Chevron Sheet Sets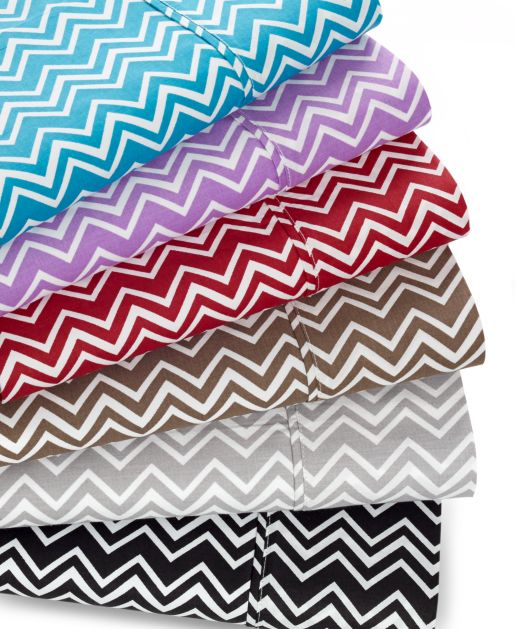 Chevron 300 Thread Count Sheet Set
$90-$110 at Macy's
Available in six colors

Uneekee Black Chevron Patterned Flat Sheet: Twin Bed 66″ x 96″

Blue Chevrons College Classic Extra-Long 3-Piece Sheet Set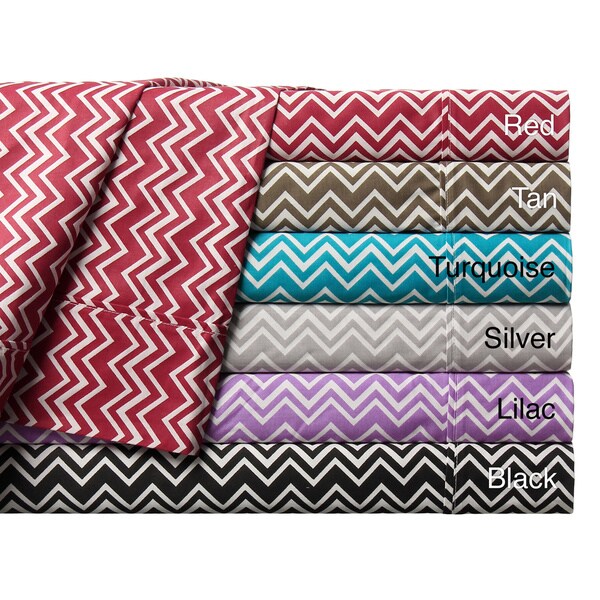 Chevron Printed Cotton Sheet Set
$36.99 at Overstock.com

Circo Pink Chevron Sheet Set
At Target.com
Also available in gray or purple