Wooftastic dog and puppy bedding for kids
Woof!! I'm definitely a dog person. So these dog bedding sets just really appeal to me. Puppies and doggies adorn quilts and comforters or drape on chairs in blanket form.
If you've been out trying to do a Google search looking for "dog bedding", you know that it is a futile way to try to find dog-themed bedding for a kid's bedroom. Futile. You'll get a billion dog beds, but not comforters and sheets with dogs printed on them. Argh! That was a huge factor for me in pulling this page together because it was just so danged difficult to sort through things to find what I wanted.
I find it a bit surprising what is available in this particular theme, though. Tons of cute baby options, but not so many for bigger kids. Then another group that's really targeted more toward adults. Huh. I don't get it. Bedding with doggies on it is perfect for including in an outdoor themed room, especially if you're going for a park or backyard look. (You could pretend the piles of dirty clothes are where the dog was digging for a bone. 🙂
Pick from several different styles and colors for your child's bedroom. It's a great bedding choice for a room with a backyard theme or if you just want to go with a dog-themed bedroom.
Dog Bedding Sets
A lot of red and brown to be found here
I'd really love to see some brightly colored dog bedding for kids. I've stumbled over a few occasionally, but this seems to be a theme that lends itself to neutrals most of the time. Nice because you can pair up other colors based on what your child loves, but still, I like to have choices!
Scottie dogs and labs are definitely the favorites, although the other sets do add a few other breeds to the mix. I think I see a few poodles, dachshunds and terriers in there too.

Crayola Chase Your Dreams Comforter Set
At Target.com

Organic Dog Duvet Cover
At Pottery Barn Kids

Twin Dog Early Edition Quilt
from: The Land of Nod

Catherine Lansfield Barking Mad King Quilt Set
At Amazon.co.uk
Reverse side is text art of dog breed names

Lovely Baby Dog Print Reversible 4-Piece Cotton Duvet Cover Sets
from: BeddingInn.com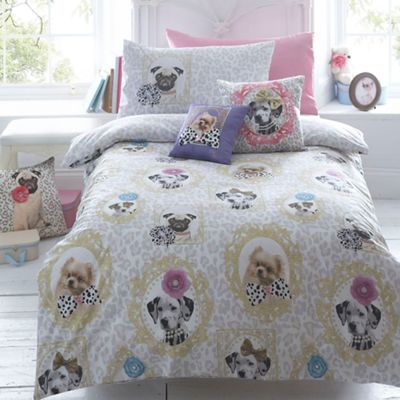 Designer children's light grey 'Coco and Friends' duvet set
At Debenhams
From the UK, so make sure you double-check sizing and what pieces you get

Plow Full/Queen Doggone Good Time Quilt Set
At Plow & Hearth

Le Vele Teen/Guess Room Bedding Modern Twin Duvet Covet Set
Text on bedding says "Please light my fire"

Dapper Dogs Bedding
At Children's Rooms UK
Dog Sheet Sets and Pillowcases
Lots of neutrals to work with any bedding
Sheets with puppy dogs are an expensive way to add some whimsy to the room. The first two sets coordinate with bedding up above, but the rest are just fun examples of designs guaranteed to make a kid happy.

Curious Canines Sheet Set
At Target.com

Early Edition Toddler Sheet Set (Dog) – Early Edition Dog Toddler Sheet Set
from: The Land of Nod

Organic Dog Sheet Set
At Pottery Barn Kids

Plow Queen Doggone Good Time Sheet Set
At Plow & Hearth
Disclosure of Material Connection: Some of the links in the post above are affiliate links. This means if you click on the link and purchase the item, I will receive an affiliate commission, probably enough to get a stick of gum. I generally only recommend products or services on this blog that I would use personally and believe you will find cool as well. I am disclosing this in accordance with the Federal Trade Commission's 16 CFR, Part 255: "Guides Concerning the Use of Endorsements and Testimonials in Advertising."