The core of a green bedroom – green bedding sets!
My favorite color when I was a kid was green – mint green specifically. But there's a wide range of green possibilities out there – like lime green and hunter green and sage green and kelly green. And it's easy to be green with these great green bedding sets.
Want a bright lime green room? Got that. Want a soft serene sage green? Got that. Want a dark cozy hunter green? Got that too.
It's worth noting that green can run quite the gamut as far as color goes, depending on how much yellow there is in the shade. The more yellow, the warmer and sharper the shade. The is where your limes and olives fall. The less yellow, the cooler the green. You end up with more forest and sage colors.
Green is also a good color to use for bedding, which forms the base of the room, because it goes with pretty much any other color. Red is opposite on the color wheel, so it's probably considered optimum, but the warm shades of orange and yellow work with green just as well as the cooler blues and purples.
Check out the green bedding options here to get your started on creating a bedroom with a green theme. This is just a start to all the options to get you going. I'll be adding more as I can, but whoa!
Bright Green Bedding Sets
Lime, yellow green, kelly, neon – brighter the better!
Brighter shades of green are happy, very "good morning". They work well in contrast with dark neutrals like black, although paired just with white, they're very crisp and clean feeling.

Highland Feather Summerville Duvet Cover Set in Green
$60.99-$80.99 at Wayfair
Twin-king sizes
Includes duvet cover and shams
100% combed cotton

SIS Covers Green Valley Duvet Set
$303.44-$423.44 at Wayfair
Twin-king sizes
Greens in this one run the gamut on the yellow end
Set includes duvet cover, shams and throw pillows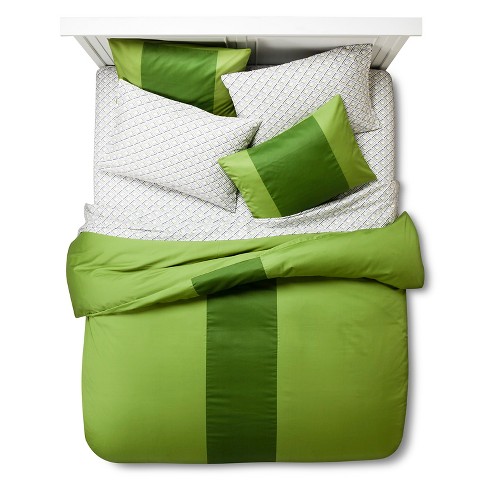 Zicci Bea Elie Duvet Bedset – Green
At Target.com

DENY Designs Stacey Schultz Circle World Green Duvet Cover
Twin-king sizes

DENY Designs Madart Richness Of Color Green Duvet Cover
Twin-king sizes
Ikea SMORBOLL 2pc Twin Duvet Cover 100 Percent Cotton in Green Color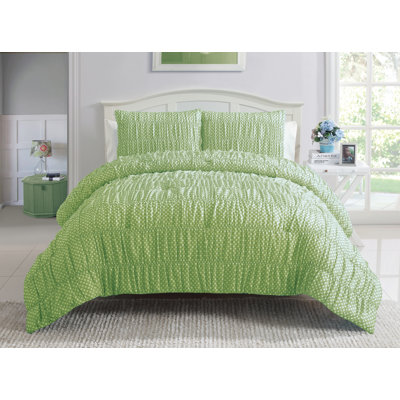 Polka Dot Comforter Set Size: Twin, Color: Green
from: Wayfair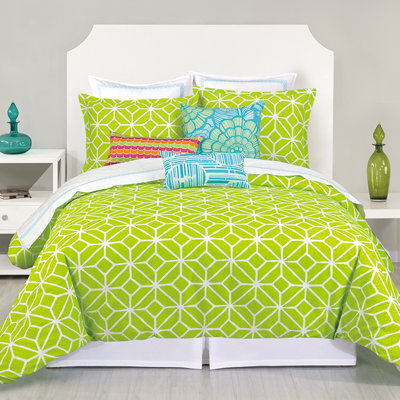 Residential Trellis Lime Comforter Set
from: Wayfair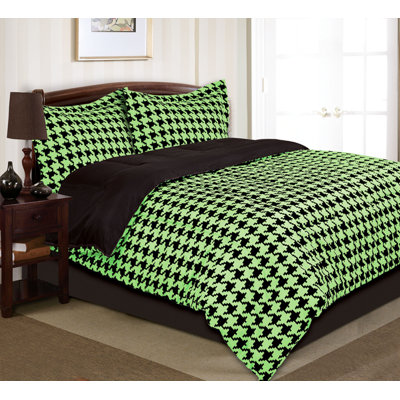 Houndstooth Comforter Set Size: King, Color: Green
from: Wayfair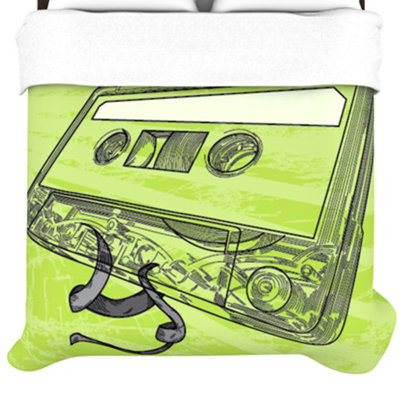 KESS InHouse Mixtape Duvet Cover
from: Wayfair

Victoria Classics Rose Fur Comforter Set
At Kohls.com
Light and Sage Green Bedding Sets
Soft colors for a serene bedroom
These sets provide just enough color to say you haven't done the entire room in beige, but are definitely not in-your-face about it. Nice and calm shades of green make for an elegant, light and serene room.

Newpoint Microplush Corduroy Twin Comforter Mini Set
Machine washable

Park B. Smith Peasant Full/Queen Duvet, Sage

Egyptian Cotton Duvet Cover Set Solid, Sage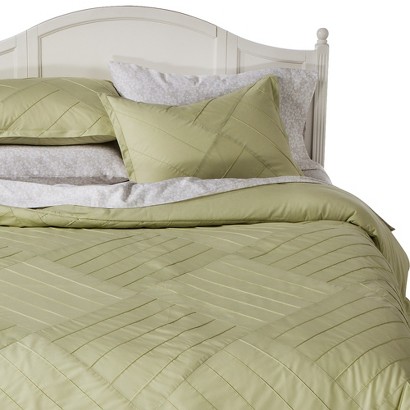 Threshold Pleated Comforter Set – Green
At Target.com
White and Green Bedding Sets
Crisp and clean color combination

Kelly Slater Organic Cloudbreak Duvet Cover + Sham
At PBteen.com

Morgan Floral Duvet Cover + Sham, Gumdrop Green • PBteen

DENY Designs Khristian a Howell Moroccan Mirage Green Duvet Cover
Twin-king sizes

Textiles Plus Inc. Quilt in a Bag in Meadow Green
At Wayfair
Full and queen sizes

Harbor House Brisbane Comforter Set

Milena Duvet Cover Set Size: Twin, Color: Jade / Ivory – $41.74
from: Wayfair
Dark Green Bedding Sets
A different take on a calm bedroom
I'm one of those people who likes my bedroom dark. Dark, dark, dark. So it's not really a surprise that I like these particular sets, since the dark bedding and dark walls can help create that cave-like room that makes it so cozy for sleeping.

Sateen Stripe 300TC Duvet Cover, Twin, Hunter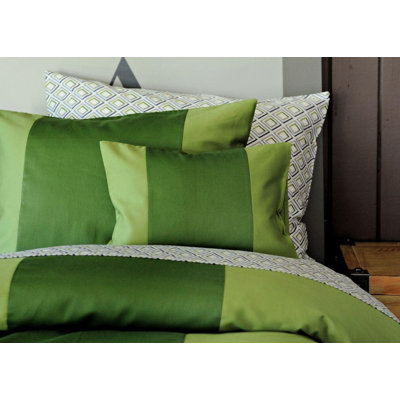 Elie Duvet Set, Color: Green – $186.61-$339
from: Wayfair

Family 4 Duvet Cover Collection – $155.76
from: Wayfair
Olive Green Bedding Sets
Moving toward the yellow end of the green spectrum
Olive doesn't have to be drab, ya know. It's actually quite an elegant and warm choice of green when applied well. As you can see, it's commonly paired with browns as a neutral.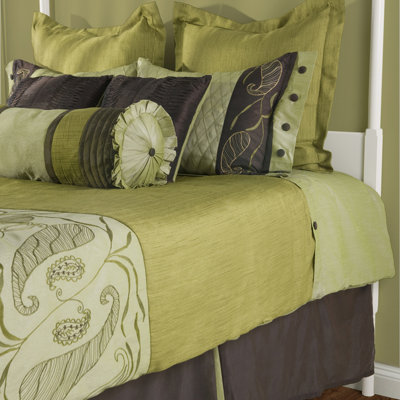 Rizzy Home Amazon Bedding Set in Olive
At Wayfair
Free shipping
Queen and king sizes
Includes duvet with filler, shams, decorative pillows, bed skirt

Room Essentials Comforter – Green
At Target.com
Twin XL-King sizes
Great choice for a college dorm room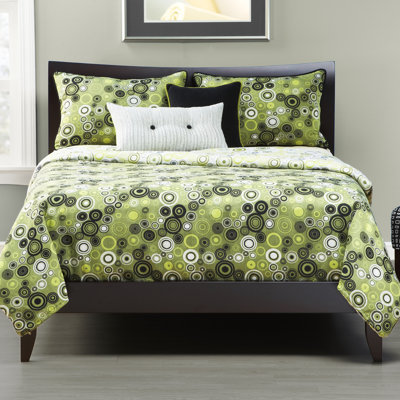 SIS Covers Going Green Duvet Set
At Wayfair
Twin-king sizes
Includes reversible duvet cover with insert, shams, toss pillows
Disclosure of Material Connection: Some of the links in the post above are affiliate links. This means if you click on the link and purchase the item, I will receive an affiliate commission, probably enough to get a stick of gum. I generally only recommend products or services on this blog that I would use personally and believe you will find cool as well. I am disclosing this in accordance with the Federal Trade Commission's 16 CFR, Part 255: "Guides Concerning the Use of Endorsements and Testimonials in Advertising."