Everyone's favorite mouse is in the house!
M-I-C, K-E-Y, M-O-U-S-E!!!
It's Mickey Mouse bedding to brighten up your room. From comforter sets to pillows to accessories to finish the look, everything you need to create a Mickey Mouse bedroom is right here. There are bright and colorful options perfect for the kids bedroom and classic choices perfect for those of us who refuse to grow up.
Go all the way with a Mickey Mouse comforter and sheet sets or just bring in a little Disney magic with a blanket or pillow to toss on the bed. Cute choices all the way around!
There are a few choices to fit grown-up beds, a few for toddler beds and a bunch in between. Many of them are in the black and red color scheme with a tiny bit of yellow – standard Mickey Mouse colors. But a lot of the ones targeted directly to a kid's bedroom include all the bright primary colors as well as plenty of green, like the Mickey Mouse Clubhouse set.
Mickey Mouse Bedding
Designs featuring iconic images with our favorite mouse
There are a lot more bright colors used these days in Mickey bedding. My favorites are still the classics in black and white with a little red, though. Most of the change in colors has to do with the advent of the Clubhouse series on Disney Junior, with its emphasis on primary colors and lots of them.
You do find a lot of blue here in the sets targeted to younger kids; definitely the ones for toddlers and babies. But there's still a nice mix of colors and styles in twin and full sizes to please the bigger kids. (Yes, I do you mean you if you're a grown-up.)
If you go for one of the duvet sets, pay attention to just what you're getting and the size it comes in. Duvets are common in Europe, but their bed sizes aren't the same as ours, so you could get something you don't expect.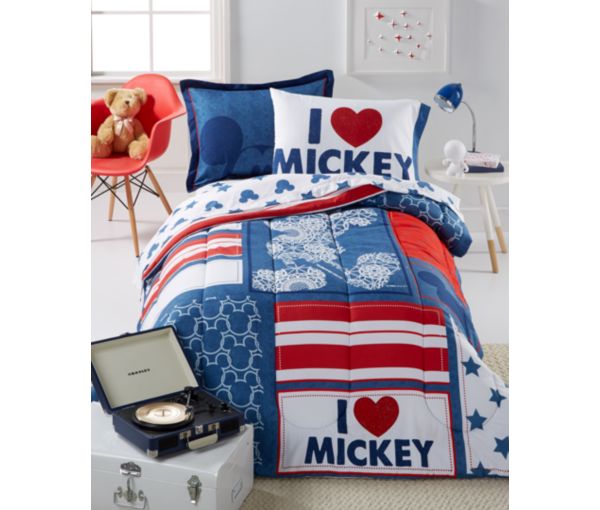 Disney® Mickey Americana 7 Piece Bedding Collection
At Macys.com

Disney® Mickey Mouse Faces Comforter
At Target.com
Reverses to red with white pinstripes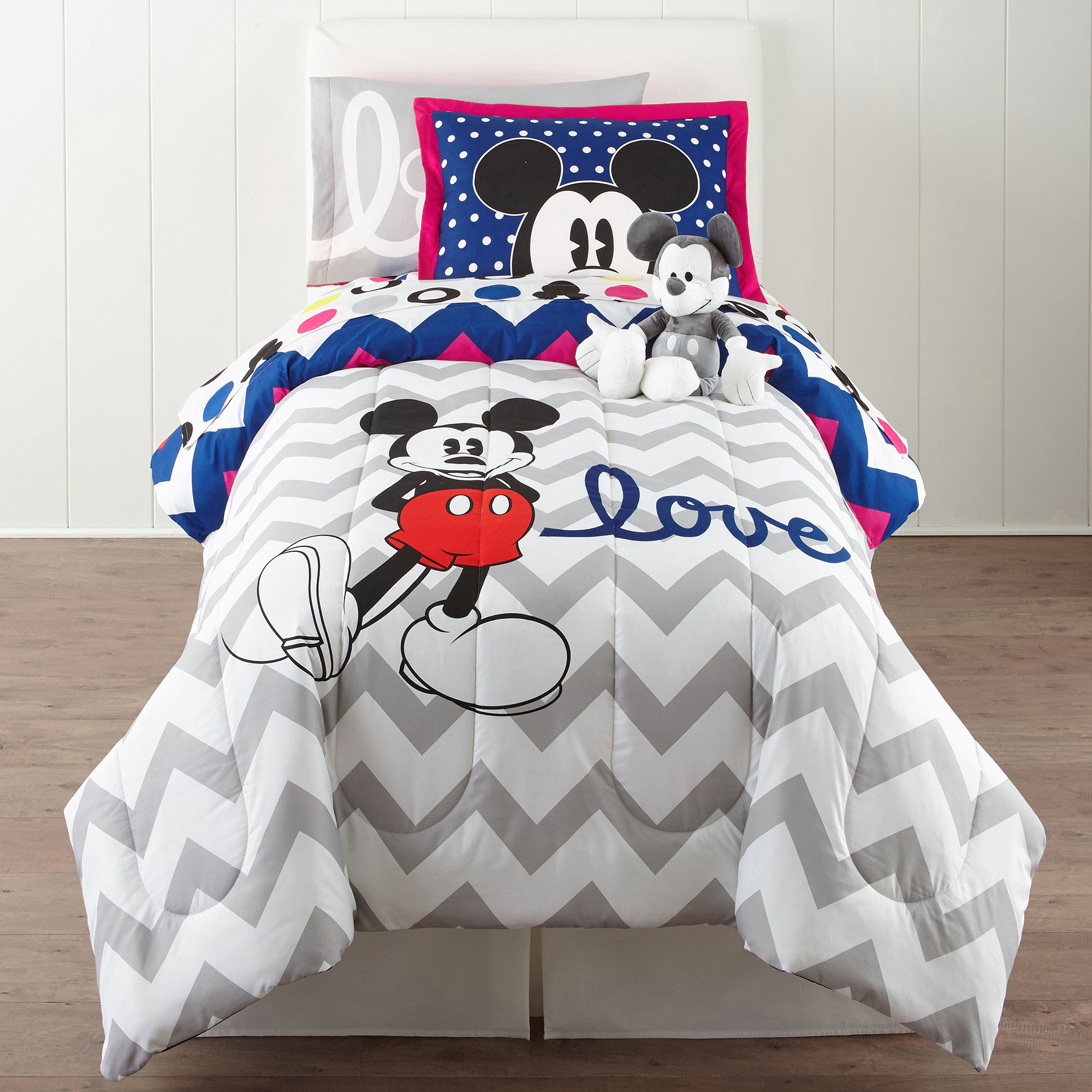 Disney Collection Mickey Mouse Chevron Twin/Full Comforter Set
At Jcpenney.com
Gray chevrons with Mickey on one side
Reverses to navy with pink, red and white chevrons

TICKING STRIPE MICKEY QUILT
At Ethan Allen

OH BOY QUILT
At Ethan Allen
Doesn't have Mickey, but one of his trademark sayings

Herding duvet cover bed linen children Disney Mickey Mouse New York 80×80 – 135×200 cm
At AmazonUK

Mickey Mouse Partner 100% cotton single duvet cover bedding set
At AmazonUK
eBay is proving to be a great place to find interesting and different styles Check out a few of the many Mickey and Minnie Duvets I saw there.
Mickey Mouse Toddler Bedding

Disney Mickey Mouse Playground Pals 2-Piece Toddler Sheet Set
At Walmart.com

Character World Disney Mickey Mouse Puzzled Junior Panel Duvet Set
At AmazonUK

Disney Mickey Mouse Space Adventures 4 Piece Toddler Set, Blue
Mickey floats across the body of the comforter

Disney Mickey Mouse 4pc Toddler Microfiber Bedding Set Clubhouse Capitain Mickey Reversible

Disney Mickey Mouse 4pc Toddler Bedding Set "Genuine Licensed"
Mickey as a pilot on this set
Mickey Mouse Sheet Sets
Snuggle down in with the mouse
More of the blacks, reds and whites from the classic colors, along with small designs like repeats of his iconic head shot. There is a set that features the Clubhouse look with the bright colors and the rest of the gang. These sets mostly coordinate with the bedding up at top of the page, although they can be mixed with other bedding designs.

Disney® Mickey Mouse Sheet Set – Red/White
At Target.com

Disney Mickey Mouse Clubhouse 3-piece Twin Sheet Set
The gang's all there!
Totally cute with Mickey and friends playing on various pieces of playground equipment.
Disclosure of Material Connection: Some of the links in the post above are affiliate links. This means if you click on the link and purchase the item, I will receive an affiliate commission, probably enough to get a stick of gum. I generally only recommend products or services on this blog that I would use personally and believe you will find cool as well. I am disclosing this in accordance with the Federal Trade Commission's 16 CFR, Part 255: "Guides Concerning the Use of Endorsements and Testimonials in Advertising."