Airplane Pillows and Blankets
Take a short trip with a small aviation touch for the bedroom. Airplane pillows and blankets provide a great opportunity to bring in small airplanes of all kinds to help set the theme of a room. Perfect for the rocker in a nursery or a window seat in a kid's bedroom.
You'll find lots of blue here, but some other colors pop in. We're short on pillows shaped like airplanes, unfortunately, but there is a great range of those with cute cartoon designs and those with dramatic and more realistic images.
Airplane Pillows

Bacati Transportation Plane Decorative Pillow
At Target.com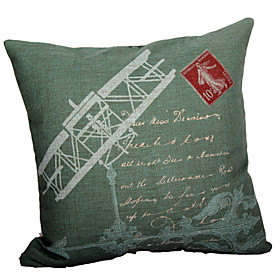 Retro Airplane Decorative Pillow Cover
$12.99 at LightInTheBox

Castle Hill Vintage Stamp Plane Dec Pillow
At Target.com

Koodle Doodle Jetset Square Cushion
At AmazonUK

Patch Magic 16-Inch by 12-Inch Airplane Crib Toss Pillows

Patch Magic Airplane Toss Pillow, 16-Inch by 16-Inch

Ganz 14″ Pillow Airplane

Airplane Pillow – Blue

DENY Designs Elizabeth St Hilaire Nelson Airplane Throw Pillow
Four sizes to choose from
Coordinating duvet and blankets available

Cute Airplane 16″ X 16″ Pillow

Vintage Red Airplane Print Rectangular Decorative Pillow

Flight School Orange Collection
Just the cover, although can get it with the pillow inside
Airplanes and helicopters on once size, big bold chevron on the other
Bright Orange, Gray, Blue, Teal, and Cream Hues

Flight School Gray Collection
Just the cover, although can get it with the pillow inside
Same design as above, just in different colors and with a small chevron print on the back
Steel Grey, Red, Blue, Brown and Cream Hues

Airplane 18″x18″ Artistic Cotton Throw Pillow
Custom Pillow Designs
Just a few of the many, many airplane pillows you can get over on Zazzle. Most of these are available in square or rectangle shapes and some come in different color options.
 Retro Overseas Airline Pillowby Vintage_Airliners Vintage Airplane Flight Plans Throw Pillowsby JoyMerrymanStore  Retro Aviation Golden Age Pillowby Vintage_Airliners  Vintage Biplane Airplane Pattern Throw Pillowsby OldCountryStore
 Patchwork Airplanes Throw Pillowby cutiepootieboutique How I Roll Pillowsby TulsaTees Jet Fuel Pillowby gosteveracergo Retro Biplane Throw Pillowsby packratgraphics
 Burlap Vintage Airplane Throw Pillowby SimplyPillows Flight Instruments Pillowby robyriker Take Off Throw Pillowby jm_vectorgraphics Aircraft Throw Pillowby Pillowsncushions
Airplane Blankets

Retro Airplane Quilted Baby Blanket
Soft minky fabric on the back side

Barefoot Dreams Scallop Cozychic Baby Receiving Blanket

Uneekee Paper Airplanes Blanket Throw
Do paper airplanes count?
Disclosure of Material Connection: Some of the links in the post above are affiliate links. This means if you click on the link and purchase the item, I will receive an affiliate commission, probably enough to get a stick of gum. I generally only recommend products or services on this blog that I would use personally and believe you will find cool as well. I am disclosing this in accordance with the Federal Trade Commission's 16 CFR, Part 255: "Guides Concerning the Use of Endorsements and Testimonials in Advertising."