Dinosaur Pillows And Blankets
I know. Dinosaurs aren't usually very snuggly, are they? But when you start talking dinosaur pillows and blankets, things can get super snuggly, super fast!
You'll find a range of designs here, from cute cartoons to rather realistic.
Dinosaur Blankets

Signature Collection Queen Size Dinosaurs Mink Blanket
Super big and super scary

Dino Stroller Blanket
At PotteryBarnKids.com

Maison Chic Plush Blanket, Dinosaur

Dinosaurs Toddler Afghan Throw Blanket 50″ x 60″
Dinosaur Pillows
Not sure if I find it surprising or not, but a large number of the dinosaur pillows out there are actually shaped like dinos rather than just featuring dinosaurs in the print.

Green Dinosaur Retro Reptile Throw Pillow from: The Land of Nod

Orange Dinosaur Retro Reptile Throw Pillow from: The Land of Nod

Mainstays Kids' Decorative Pillow, Blue Dinosaur
At Walmart.com

Mainstays Kids' Decorative Pillow, Red Dinosaur
At Walmart.com

Dino Decorative Shams
At PotteryBarnKids.com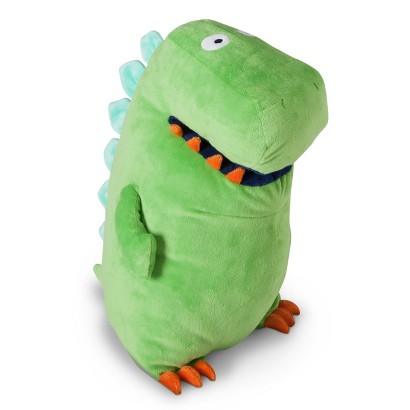 Circo Dino Decorative Pillow
At Target.com

Stegosaurus Toss Pillow
At Target.com

H&M – Dinosaur Cotton Cushion Cover
At HM.com

AMITY HOME 'Dino' Decorative Pillow
At Nordstrom.com

Dino Dave Blue Pillow

InStyle Home Collection Dinoland Triceratops Pillow

Green Dinosaur Children`s Accent Pillow
Dinosaur Pillow Pets

My Pillow Pets 18″ Dino T-Rex

My Pillow Pets 18″ Dino Triceratops – Green

My Pillow Pets 18″ Dino Triceratops – Blue

My Pillow Pets 18″ Dino Triceratops – Pink

My Pillow Pets 18″ Dino Pterodactyl
Disclosure of Material Connection: Some of the links in the post above are affiliate links. This means if you click on the link and purchase the item, I will receive an affiliate commission, probably enough to get a stick of gum. I generally only recommend products or services on this blog that I would use personally and believe you will find cool as well. I am disclosing this in accordance with the Federal Trade Commission's 16 CFR, Part 255: "Guides Concerning the Use of Endorsements and Testimonials in Advertising."