Dog and Puppy Pillows
Great for a backyard themed room or just a plain old dog lover – these dog and puppy pillows are absolutely adorable. (So sorry if you came here thinking you would find pillows for dogs. Nope, these are pillows with dogs.)
Grouped by shaped pillows, pillows with dogs and puppies, then dog-themed pillows.
Dog and Puppy Shaped Pillows
OK, not always completely dog-shaped. But this set of pillows are the ones meant to "be" a dog rather than just simply have a dog theme. Cute colors along with cute shapes.

Brentwood Poggs Pillow, Blue Dog

Brentwood Poggs Pillow, Tan Dog

IcyDeals Get Me Out Pillow, Sad Dog

Plush Floppy Ear Dog Accent Pillow

Super Dog Throw Pillow – Blue Super Dog Throw Pillow
from: The Land of Nod
Dog and Puppy Pillows
These tend to be square and often have several dogs on them.

Burlap Cute Dog Print Decorative Pillow Covers

P.B. Paws by Park B. Smith Loyal Companion Dog Bed • B. Smith
At jcpenney.com

H&M – Cushion – Dog

H&M – Pink Dog Cotton Cushion Cover
At HM.com
Dog Pillow By K Studio • K Studio
at 2Modern.com

Dog Decorative Pillow • Pottery Barn Kids

Puppy Dog On Lime Throw Pillow by CustomLinens
$59.95 at Zazzle
20″ square, which is bigger than you expect
Same design front and back

Bentin Pet Decor Always Hopeful Always Happy Throw Pillow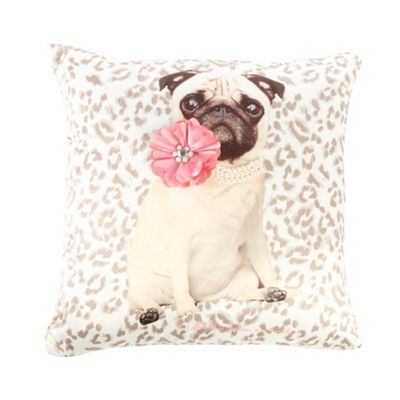 Designer Coco Dog Cushion Cream
£20.00 at Debenhams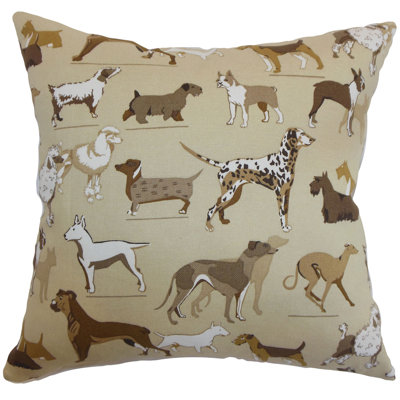 Wonan Dogs Print Cotton Pillow Color: Toast – $57.45
from: Wayfair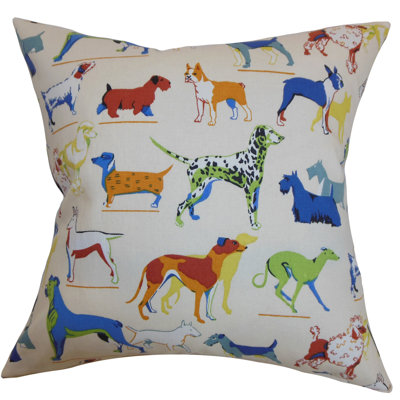 Wonan Dogs Print Cotton Pillow Color: Multi – $57.45
from: Wayfair

Chooty Doggy Day Jewel Fiber Pillow, Set of 2

Black and White with Multi Color Dogs 18″ X 18″ Throw Pillow
Dog-Themed Pillows
Paw prints, bones and dog houses fit in perfectly with this theme, so here's a great group featuring those elements rather than actual dogs.

Decorative Pillow Cover in Paw Print Pattern
Choose from big or small prints in five different colors

Paw Prints Woven Cotton Pillow by CustomLinens
$59.95 at Zazzle
20″ square, which is bigger than you expect
Same design front and back

Manual Woodworkers and Weavers Dog To The Rescue Printed Pillow

Manual Woodworkers and Weavers Dog To Rescue Printed Pillow

Romy & Jacob I Love Dogs Pillow

Bentin Pet Decor Keep Calm and Bark on Throw Pillow

Manual Woodworkers and Weavers Dog to Rescue Printed Pillow
Reads "Lick, Woof, Wag" on the reverse side
Disclosure of Material Connection: Some of the links in the post above are affiliate links. This means if you click on the link and purchase the item, I will receive an affiliate commission, probably enough to get a stick of gum. I generally only recommend products or services on this blog that I would use personally and believe you will find cool as well. I am disclosing this in accordance with the Federal Trade Commission's 16 CFR, Part 255: "Guides Concerning the Use of Endorsements and Testimonials in Advertising."