Backyardigans Bedding
Bring the backyard in with this theme
Aren't they just so cute? Bring the outside in with a Backyardigans theme for your toddler's bedroom. Pick from your choice of bedding options, then add a few other touches around the room with wall borders or pillows or other accessories.
One of my favorite things with this particular set of characters is definitely the wide range of colors you get here, from pink with Uniqua, yellow with Tasha, purple with Austin, blue with Pablo and orange from Tyrone. It's a great range that makes it really easy to match non-themed items to the themed ones.
I'm always on the lookout for more decor to add to this page so come back to check it out again!
Cute Toddler Comforter Set

Nickelodeon Toddler Set – $51.99
from: Wayfair
One of the few I've been able to find recently, but a really cute design.
Pablo as a Viking, Tyrone as a cowboy, Uniqua as a pirate, Austin as a caveman and Tasha as a queen.
Includes comforter and sheet set
Blankets and Pillows
Tasha Face Pillow – Backyardigans
Who wouldn't love that bright yellow smiling face?

Backyardigans Fleece Blanket
Adding Tasha to the mix here with the colors a bit more muted
Personalized Backyardigans Pillowcase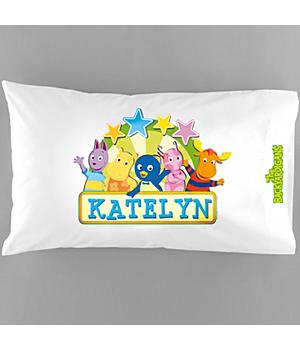 Personalized Backyardigans Pillowcase
$14.99 at Personal Creations
Backyardigans Wall Decals and Borders

The Backyardigans Growth Chart
$18.49 at RoomMates

The Backyardigans Wall Decals
$14.49 at RoomMates

Backyardigans Wall Paper Border

Brewster 147-71152 Nickelodeon Backyardigans Growth Chart Mural
Disclosure of Material Connection: Some of the links in the post above are affiliate links. This means if you click on the link and purchase the item, I will receive an affiliate commission, probably enough to get a stick of gum. I generally only recommend products or services on this blog that I would use personally and believe you will find cool as well. I am disclosing this in accordance with the Federal Trade Commission's 16 CFR, Part 255: "Guides Concerning the Use of Endorsements and Testimonials in Advertising."