Doc McStuffins Is In … the Bedroom!
Have you met Doc McStuffins yet? If you have a young girl, odds are she's become a staple on your television set. The cute six-year-old Dottie wants to be a doctor someday like her mother and her pretend adventures as a doctor are the focus of the show.
Dottie's a great inspiration for little girls with her helping attitude and big dreams. Oh, and she's one of the first African-American leads in a cartoon show for Disney. So she's a pleasant change from some of the fare on TV, and a great idea for your girl's bedroom decor.
Doc McStuffins is pretty new on the scene, so we're just now starting to get bedding lines with her as the feature, making it possible to do a Doc McStuffins-themed room. Of course, you could also go the extra mile and decorate your child's room to look like Dottie's on the show. That's the choice right now – doing a room like Dottie's or decorating the room with her. Either way, I've got you covered with ideas for all around the room!
The colors we're working with here are bold, bright, cheery – hues like hot pink, turquoise and purple. Dottie's outfit of purple stripes, pink polka dots and white lab coat are a great place to start in choosing colors and patterns. Add in the turquoise used in the show's logo and you have a nice palette to choose from.
Doc McStuffins Bedding
Full of the colors from the show
Hooray! We're finally starting to see bedding for Doc McStuffins! It's all in twin size (for now), although I have seen a toddler set. I just can't find it actually available to buy yet. My favorite is the bandage print sheet set. Way cute!

Doc McStuffins Microfiber Twin Comforter

Disney Doc McStuffin Comforter Set, Twin
Says "smiles and hugs given here"
Reversible – other side is light purple with large dark purple, pink and turquoise hearts.

Disney Doc McStuffins Comforter, Twin
Says "I prescribe a cuddle"

Disney Doc Mcstuffins Hugs Single Rotary Duvet Set
At Amazon.com

Disney 4 Piece Toddler Set, Doc Mcstuffins

Disney Doc McStuffins Good as New 4-Piece Toddler Bedding Set
At Walmart.com

Disney® Doc McStuffins Toddler Bed Set

Character World Disney Doc McStuffins Patch Single Rotary Duvet Set, Multi-Color
At AmazonUK

Character World Disney Doc Mcstuffins Patch Junior Rotary Bedding Bundle, Multi-Color
At AmazonUK
Doc McStuffins Blankets & Pillows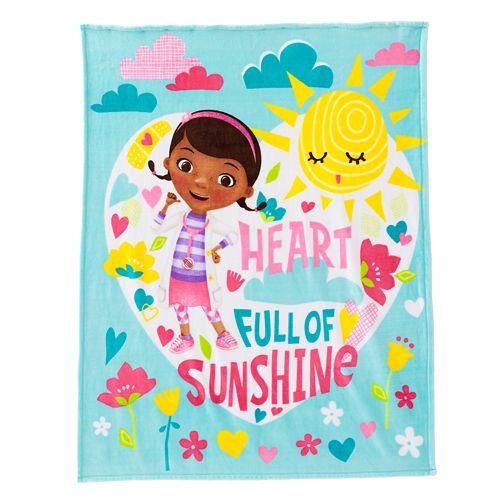 Disney's Doc McStuffins Plush Throw by Jumping Beans
At Kohls.com

Disney Doc McStuffins Doc Love Sweatshirt Throw
At Kohls.com

Disney "Doc McStuffins, Lambie Hugs" Fleece Throw with Hugger, 40 by 50-Inch

Character World Disney Doc McStuffins Patch Fleece Blanket, Multi-Color
At AmazonUK

Character World Disney Doc Mcstuffins Patch Shaped Printed Plush Cushion, Multi-Color
At AmazonUK
Disclosure of Material Connection: Some of the links in the post above are affiliate links. This means if you click on the link and purchase the item, I will receive an affiliate commission, probably enough to get a stick of gum. I generally only recommend products or services on this blog that I would use personally and believe you will find cool as well. I am disclosing this in accordance with the Federal Trade Commission's 16 CFR, Part 255: "Guides Concerning the Use of Endorsements and Testimonials in Advertising."