Elmo Bedding – Your Furry Red Friend Wants to Room with You!
Elmo loves you and wants to be a part of your child's life. And what better theme to decorate the bedroom with? From the bed to the walls to the floor, there's an Elmo for that.
Elmo bedding – any Sesame Street bedding, for that matter – is surprisingly tough to find. So I'm constantly scouring for new sources and have included eBay auctions to help you out. I've also got ideas for how to do this theme without Elmo-specific bedding. (Yes, it's possible!) Take a look around and thanks for stopping by!
Elmo Bedding

Sesame Street Construction Zone Bedding Set
$32.54 at Walmart.com
4-piece toddler set

Sesame Street Elmo 4 Piece Toddler Bedding Set

Sesame Street Scribbles 2-Pack Toddler Sheet Set
$14 at Walmart.com
Personalized Pillowcases
Colors, letters and holiday options

Personalized Elmo Pillowcase
At Personal Creations

Personalized Elmo All Tucked In Plush Pillowcase
At Personal Creations
Build Your Own Elmo Bedroom
Start with solids, then accessorize!
Given how popular Elmo is, I'm always surprised at how difficult it is to find bedding sets that feature him or any of the Sesame Street gang. But, never fear. You just have to get creative, and I have every confidence that you can.
Since we're dealing with bedding, start with a focus color – obvious one in this case being red. But, if you want to include lots of Elmo around the room, white, yellow, blue and orange are also good options. (The red and blue set pictured here would work perfectly.) Make the bedding that focus color, then use room accessories to carry the theme for you. There, we have lots of options, including stuffed plushies to love!
This is also a place to considering blending themes, like Elmo as fireman and then use fire truck bedding. Or Elmo as cowboy. Or on safari. As long as you can keep it in a color scheme that works with him, it would be great and totally unique.
My Favorite Options
Great pieces to build a room on

Tadpoles Classics Gingham Crib Coverlet
This is one of my favorite options because it comes in red, navy or yellow (along with other colors) and has all the matching pieces you need. You could mix and match the colors to get all the primaries in there or go straight red. You could even sew some Elmo face patches on the quilt or bumper to make it fit the theme.
Blankets & Throws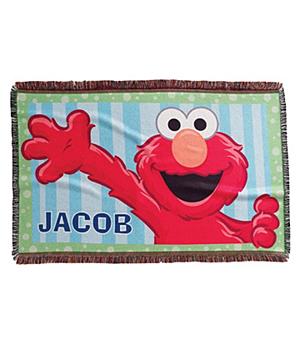 Personalized Throw
$39.99 at Personal Creations

Sesame Street Elmo And Zoe Snuggle Blanket

Sesame Street Twin Plush Elmo Blanket

Sesame Street Baby Throw- Rocking Horse Theme Elmo Plush Blanket

Elmo Twin Mink Plush Blanket (Steal the Base)
Disclosure of Material Connection: Some of the links in the post above are affiliate links. This means if you click on the link and purchase the item, I will receive an affiliate commission, probably enough to get a stick of gum. I generally only recommend products or services on this blog that I would use personally and believe you will find cool as well. I am disclosing this in accordance with the Federal Trade Commission's 16 CFR, Part 255: "Guides Concerning the Use of Endorsements and Testimonials in Advertising."