Thomas the Train Bedding
OK, yes, yes, yes. I know his proper name is Thomas the Tank Engine. But somewhere along the line, people started referring to him as Thomas the Train. So that's what I'm calling him here. Either way, he's still the classic blue friend your child adores.
There are a few options out there for Thomas bedding, and I'm always on the lookout for new ones to add here. But we'll also take a look at how to build a Thomas room without it, if need be. Thanks for stopping by!
I have things organized by size, since you might be deciding between moving your son directly into a bigger bed and skipping the toddler size altogether. Bigger sizes sometimes have more options, so that might not be a bad plan. Note that some of these come from overseas and "cot" is about the same as toddler in the US, but single isn't exactly the same as twin. Double-check measurements before ordering.
Thomas the Train Toddler Bedding

Thomas & Friends Bedset
£25.00 at Marks & Spencer

Thomas Train Railroad Bedding Set – 4pc RR Crossing Toddler Bed Set

Thomas Tank Train On Track Toddler Bedding Set

Thomas Fitted Sheet
At Target.com
Fits toddler bed
Online only, not in stores
Thomas the Train Twin and Full Bedding

Thomas the Tank Engine Quilt Set – Blue
At Target.com

Thomas and Friends Scenic Bedding Comforter Set
$34.88 at Walmart.com
Thomas and Friends Scenic Bedding Sheet Set
$36.99-$46.24

Thomas and Friends Sheet Set – Twin
At Target.com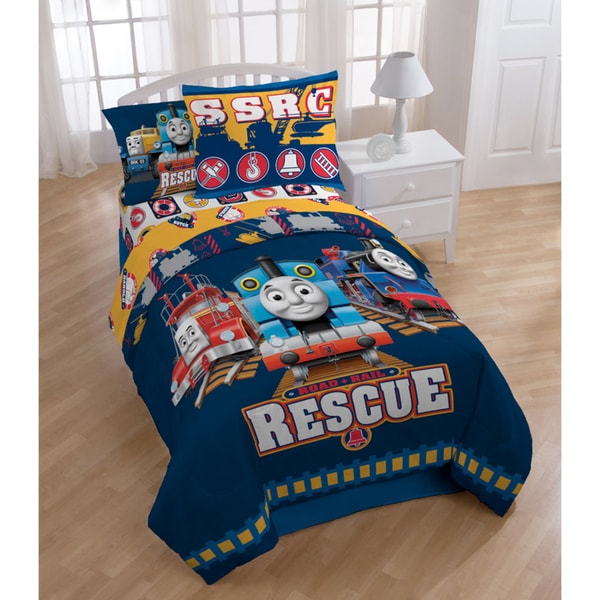 'Thomas Rescue' 8-piece Bed in a Bag with Sheet Set
At Overstock.com

Thomas The Train Track Star Microfiber Comforter

Character World Thomas and Friends Race Single Rotary Duvet Set
Available at AmazonUK

Thomas Express Single Panel Duvet Set
>

Hit Entertainment Thomas Right On Time Twin Comforter Set

Hit Entertainment Thomas Right On Time Full Sheet Set

Thomas the Tank Engine Rescue 4-piece Full Sheet Set
Thomas Blankets and Pillows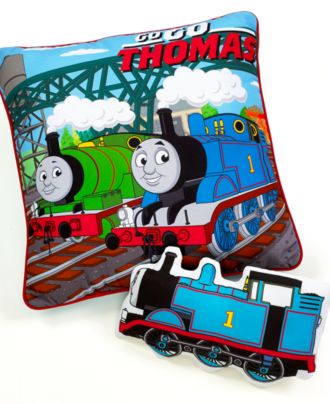 Thomas and Friends Decorative Pillow Set
$50 at Macy's

Thomas the Train Throw – Blue (Toddler)
At Target.com

Thomas the Train & Friends Toddler Fleece Blanket Throw

Hit Entertainment Thomas Right On Time Decorative Pillow, Pack of 2

Thomas the Train: Good Night Thomas

Pillow Pets 18 inch – Percy
Disclosure of Material Connection: Some of the links in the post above are affiliate links. This means if you click on the link and purchase the item, I will receive an affiliate commission, probably enough to get a stick of gum. I generally only recommend products or services on this blog that I would use personally and believe you will find cool as well. I am disclosing this in accordance with the Federal Trade Commission's 16 CFR, Part 255: "Guides Concerning the Use of Endorsements and Testimonials in Advertising."