Alphabet Rugs
ABCs for underfoot
When I started looking at alphabet rugs to go with an alphabet themed kids bedroom, I was surprised how many of the options looked like something you'd put down on a preschool classroom floor. Nothing wrong with that. If you have a lot of kids, a lot of traffic or a lot of space to cover, that might be a great option for you.
But a little unique style, colors that aren't always bright primaries and soft pile sometimes are what you are after. So here are options for you to consider that work with a variety of color schemes and even with non-alphabet bedroom themes while still bringing letters to the floor.
Animal Alphabet Rugs

The Rug Market Kids Play Fun Rugs – Alphabet
At Bluefly.com

Animal Alphabet Area Rug
Available at Amazon
Hand carving makes the animals and letters stand out
Brightly colored animals and objects help your child associate letters with words. The carved letters create a two-dimensional look and feel that stands out. Warm background means dirt won't show as much either!
Colorful Alphabet Rugs

Learning Carpets Alpha Walkabout Play Carpet
from Amazon
3'x6'8″ size
The one might be a play carpet (already breaking my own guidelines) but the bright colors and clever design give it a leg up on most. It's made from nylon, so it won't be that soft, but it is non-toxic, non-allergenic and stain resistant. Good qualities in a kids rug!

Alphabet 4 x 6 Rug
from: The Land of Nod

Fun Time Alphabet Train Rug
Available at Amazon
3'3″ by 4'10"
Lots of cars for lots of letters
Perfect choice for a train-themed bedroom. The variety of car colors can work with just about any color scheme train bedding comes in.

Safavieh Kids Alphabet Rug
Handmade, 100% New Zealand Wool
One of the few I've seen with lower-case letters

Tayse Kids Life Area Rug
At Hayneedle

Allison Cole Alphabet Wool Rug
At The Land of Nod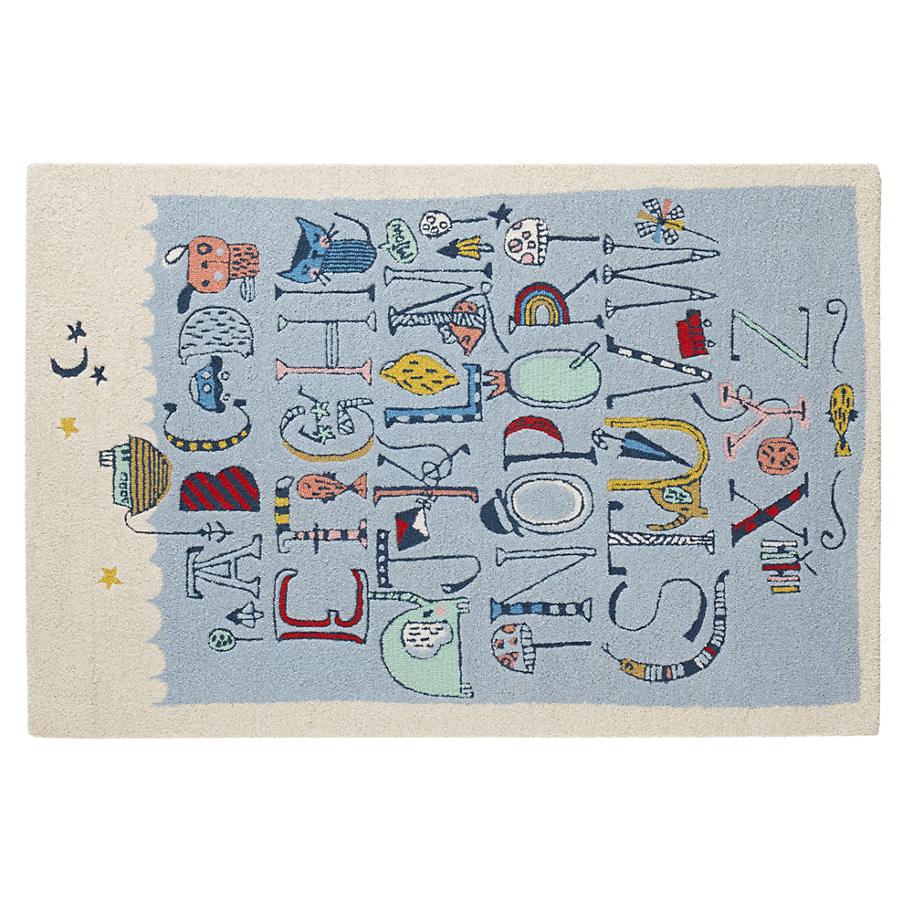 Alphabet Ocean Wool Rug
At The Land of Nod
Alphabet Rugs with Pink

Fun Rugs Supreme Numbers & Alphabet Rug
$85 at Wayfair
Wow – that's a very different color scheme!
With its extra high pile and hand carved design, this rug offers a quality option. And the color scheme here is awesome. I would pair it with more subtle colors in the room with bright splashes rather than a brightly colored room.
Disclosure of Material Connection: Some of the links in the post above are affiliate links. This means if you click on the link and purchase the item, I will receive an affiliate commission, probably enough to get a stick of gum. I generally only recommend products or services on this blog that I would use personally and believe you will find cool as well. I am disclosing this in accordance with the Federal Trade Commission's 16 CFR, Part 255: "Guides Concerning the Use of Endorsements and Testimonials in Advertising."