Cupcake Decor- The Cherry on Top
Sweet little items for your little girl
Add a sweet little touch to your girl's bedroom with a few yummy cupcakes. Well, yummy looking, anyway.
Cupcakes are a hot trend right now for eating and also for decorating. Go with a complete bedroom theme or just pick a few of these to add to whatever theme your girl wants.
The designs and options are many, although you'll find a lot of the color choices lean way over to the pink side. Still, with brown for chocolate, it's a nice color combination!
Yummy Wall Art

Cupcake Giclee Print
At Petit Tresor

Counting Cupcake Giclee Print
At Petit Tresor

Cupcakes Art Print
At Society6

Cupcakes Art Print
At Society6

Cupcake Patisserie for Little Girls
At Society6

Lex Modern Art Canvas
At Modern Nursery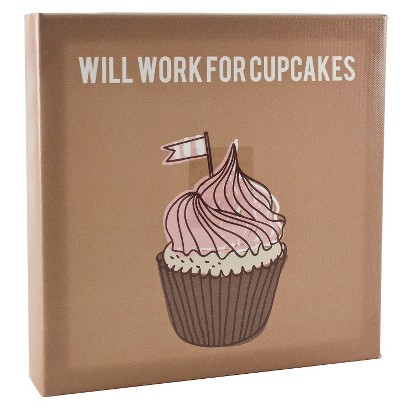 Will Work For Cupcakes Wall Canvas
At Target.com

Keep Calm and Eat Cupcakes Poster
Choose from framed or unframed

Eat a Cupcake Then Eat Another Funny Poster

Cupcakes (Grid) Art Poster Print
That's a whole lot of yummy!

Sweet Cupcake Art Print Size: 5″ H x 7″ W
from: Wayfair
More Cupcake Decor For Around the Room

Kids Charming Magnets

Trend Lab Wall Clock
At Kohls.com

Cupcake 11″ Pink Wall Clock

Dot & Bo Sweet Cupcake Marquee

Cupcake Delight Alarm Clock Pink

Three Cheers for Girls Sweet Treats Jewelry Holder

Personalized Cute Cupcakes Parachuting Canvas Growth Chart

Trend Lab Shelf with Pegs
At Wayfair

Stephan Baby Ceramic Cupcake Bank, Polka Dot Frosting

MONEY SCHOLAR Cupcake Savings Bank
At Nordstrom.com

Present Time Silly Whipped Cream Cupcake Ceramic Money Bank

Lavender 3 Drawer Cupcake Motif Jewelry Box
Cupcake Furniture
Love these designs from Newco Kids. Purple shades with lots of sprinkles on chocolate cupcakes. (Great. Now I'm hungry!)

Newco Kids Cup Cake Collection 3 Piece Toddler Set, Lavender
So cute how the ottoman is designed to look like a cupcake!

Newco Kids Cupcake Lavender Round Storage Ottoman
$92.99 at Walmart.com

Newco Kids Cup Cake Collection Nightstand, Lavender

Home Basics Kids Folding Storage Ottoman, Cupcake Shop

Pink Candy Cupcake Children`s Stool 16 In.

HearthSong Wooden Cupcake Furniture Set
$149.00 at HearthSong

Giant Cupcake Bean Bag Chair – Vanilla

Mini Cupcake Bean Bag Chair

Giant Cupcake Bean Bag Chair – Chocolate

Lemon Cupcake Bean Bag Chair
Cupcake Lights and Lamps

Yummy Cupcake Lamp
$149.00 at aBaby

Cupcakes Chandelier
$330.00 at aBaby
Disclosure of Material Connection: Some of the links in the post above are affiliate links. This means if you click on the link and purchase the item, I will receive an affiliate commission, probably enough to get a stick of gum. I generally only recommend products or services on this blog that I would use personally and believe you will find cool as well. I am disclosing this in accordance with the Federal Trade Commission's 16 CFR, Part 255: "Guides Concerning the Use of Endorsements and Testimonials in Advertising."