Cool Danger and Warning Signs for a Teen Bedroom
Because some kids should come with labels …
Yeah – there are lots of reasons to hang warning signs on a teen boy's bedroom. (The gas mask seems particularly relevant at times, doesn't it?)
But, these images are more likely to just appeal to the rebel side of your child. Whether coordinating them with a military-themed bedroom or just showing some attitude, these danger postings will be right at home on a teenager's wall.
The designs below range from those for real fallout shelters and Area 51 to the whimsical zombie alerts. A lot of these are made of tin (which are going to be pretty heavy and will need special care in hanging) to posters that can just be thumbtacked up.
Fallout Shelter Designs
Not exactly a warning sign, but a path to safety when there is a nuclear accident. (Like a gym bag that hasn't been emptied for an entire semester.)

Fallout Shelter Tin Metal Vintage Waring Sign

Fallout Shelter Wall Decal
Available in four sizes
Reusable up to 100 times
Chemical and Biological Hazards

Gas Mask Area Warning Sign

Poison Gas Area Warning Sign

Biohazard Vintaged Metal

Danger Radiation Vintaged Metal

Nuclear Vintaged Metal

Danger Gasoline Axis Military Vintage Metal
Area 51 Markers

Area 51 Vintaged Metal
Restricted Area

Danger Mines Vintaged Metal Sign

Danger Restricted Area Metal Sign
Personalized Designs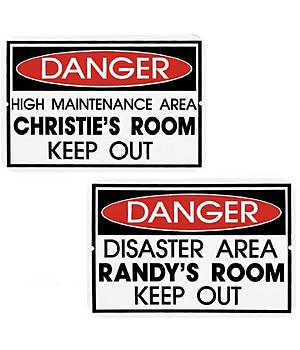 Personalized Danger Sign
$19.99 at Personal Creations
Personalize two lines of this sign
21 characters on the first, 15 on the second
Zombies!!!!
Posters and tin signs to hang

Zombie Fallout Shelter Poster
Choose from framed or unframed

Zombie Feeding

Zombie Caution Poster

Warning Zombies Tin Sign

Zombie Notice Poster
Comes framed or unframed

Zombie Hunters Only Poster
Disclosure of Material Connection: Some of the links in the post above are affiliate links. This means if you click on the link and purchase the item, I will receive an affiliate commission, probably enough to get a stick of gum. I generally only recommend products or services on this blog that I would use personally and believe you will find cool as well. I am disclosing this in accordance with the Federal Trade Commission's 16 CFR, Part 255: "Guides Concerning the Use of Endorsements and Testimonials in Advertising."