Cute Hello Kitty decor with that bow everywhere!
You'll see Hello Kitty everywhere when you add some cute decor featuring your favorite Sanrio cat around the room. Bring the Hello Kitty bedroom theme home with a clock or trinket box or even a recliner!
Check out the cute Hello Kitty decor items I've found below. Most would be a nice touch to a bedroom with pink, purple or red colors.
Hello Kitty Lighting

Hello Kitty LED Mood Lamp
At Target.com

Hello Kitty Table Lamp

Hello Kitty LED Mood Lamp

Dalber Hello Kitty Wall Lamp
At AmazonUK

Spearmark Hello Kitty Mood Light
At AmazonUK

Dalber Hello Kitty Ceiling Light Square
At AmazonUK

Dalber Hello Kitty Square Glass Ceiling Light
At AmazonUK

Spearmark Hello Kitty Desk Lamp
At AmazonUK
Hello Kitty Posters

Hello Kitty (Red Apple, Red Background) Art Poster Print
Hello Kitty Decor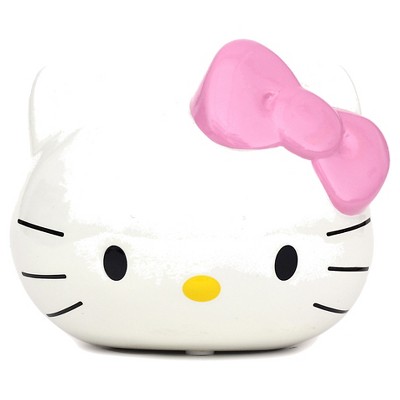 Hello Kitty Mini Bank
At Target.com

Hello Kitty Bank
At Target.com

eKids Hello Kitty Dual Alarm Clock Speaker System, by iHome

eKids Hello Kitty Rechargeable Character Speaker, by iHome

Hello Kitty Modular Storage Box

Hello Kitty Swing Storage Box: Red Apple
Hello Kitty Clocks and Radios

Hello Kitty Projection Clock Radio

HELLO KITTY Digital AM/FM Clock Radio with Night Light

Hello Kitty Stereo Speaker System with Built-in iPhone/iPod Docking Station

Hello Kitty A AM/FM Stereo Alarm Clock Radio with Top Loading CD Player

Docking Speakers for Hello Kitty MP3 Player
Disclosure of Material Connection: Some of the links in the post above are affiliate links. This means if you click on the link and purchase the item, I will receive an affiliate commission, probably enough to get a stick of gum. I generally only recommend products or services on this blog that I would use personally and believe you will find cool as well. I am disclosing this in accordance with the Federal Trade Commission's 16 CFR, Part 255: "Guides Concerning the Use of Endorsements and Testimonials in Advertising."