I don't have quite as many items on this page as there are minions, but the list is getting pretty long. I already had to move the wall decals off to their own page.
With the advent of the new movie, we have a lot more variety in the options here. We've got cro-minions and pirates and the lot, although most of those are found on posters or decals than other decor items.
Minions Decor

LICENSE Minions Mini Bank Yellow
At Target.com

Blue Fireflies Minions Folding Laundry Basket/Pop up  Hamper

Minions Funny Face Trinket Tin

Despicable Me 2 The Minions Shaped Vinyl Money Box Piggy Bank – One Eye

Despicable Me Minions Photo Frame

Despicable Me Plastic Trash Bin
Minions Lights and Lamps

Character Despicable Me Minion Lamp Kool

Vi-Zone® Minions Money Piggy Bank & LED Rechargeable Desk Lamp

Despicable Me Minions Tapered Ceiling Light Shade

2015 New Spot Lite Grab 'n Glow – Despicable Me Minion
Minions Clocks
Wall and alarm styles here in all kinds of styles.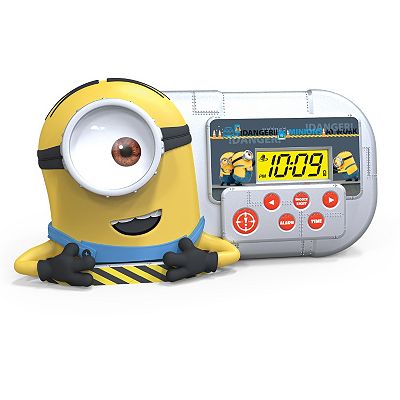 Despicable Me Minion Night Glow Alarm Clock
At Kohls.com

Despicable Me Minions Projector Alarm Clock

Pixar "Despicable Me" 10″ Wall Clock

Despicable Me Acrylic Alarm Clock

Despicable Me 2 Wall Clock 25cm "Bello"

Minions Overall Clock

Minions Clock

Minion Crowd Clock

Minion Mania Clock

Minion Clock
Minions Posters

Poster – Despicable Me 2 – Bello – Maxi – Pyramid

Despicable Me 2 – Movie Poster (An Army Of Minions) (Size: 24″ x 36″)

Despicable Me Minion Mania Maxi Poster

Despicable Me Minions Abbey Road Maxi Poster

Poster – Despicable Me – Minions Through Time New Wall Art 22″x34″
Disclosure of Material Connection: Some of the links in the post above are affiliate links. This means if you click on the link and purchase the item, I will receive an affiliate commission, probably enough to get a stick of gum. I generally only recommend products or services on this blog that I would use personally and believe you will find cool as well. I am disclosing this in accordance with the Federal Trade Commission's 16 CFR, Part 255: "Guides Concerning the Use of Endorsements and Testimonials in Advertising."