Blast off with great outer space decor!
From the walls to the floor to the shelf to the bed, there are a lot of choices if you're decorating a bedroom with an outer-space theme. There's planets and stars and rockets and robots and so many more elements you can include in the theme. Whew!
Start here if you're looking for some great ideas for decor to add to your room. I'm collecting the best I can find around the web right here!
If you're finding yourself overwhelmed at the choices, try to find one great piece you like to be the focal point of the theme, then decide how many more themed items you want to include (not everything in the room has to have a rocket ship on it!) and then consider color scheme from there to help you choose. Keep in mind that while there are infinite stars and planets, the number of rockets in any one location of space will likely be few.
Space and Rocket Lights

Room Magic Lamp, Star Rocket

Rocket Table Lamp
from: The Land of Nod

Uncle Milton Mars in My Room

aloka-designs Rocket Nightlight • Bed Bath & Beyond

Novelty Rocket Table Lamp
At Target.com
Available in red, green or yellow

Modern Moose Rocket Nightlight
At Barney's New York

Task Lamp, Rocketship
At PotteryBarnKids.com

Constellation Shade
At PotteryBarnKids.com

Uncle Milton Moon In My Room

Niermann Standby Pendant Lamp, Space Ship

Galaxy You Later Night Light in Cosmos by Kikkerland
from: ModCloth
Space and Rocket Clocks

Rikki Knight Rocket Ship Wall Clock
Made in the USA
Space and Rocket Decor

Rocket Ship Wall Hook
from: The Land of Nod

Orderly Orbit Planet Coat Hooks
from: ModCloth

Orbits and Pieces Paperweight by Kikkerland
from: ModCloth

Rocket Ship Planked Art • Pottery Barn Kids

Americanflat Anderson Design Group "Rocket Man" Framed Wall Art
At Kohls.com

Munch Wall Decor, Rocket Ship
Outer Space Furniture

Space Shuttle Bunk Bed
At aBaby.com
Included in this custom crafted bed is an attached ladder, accessory
bookcase and a bench seat for two in the shuttle's cockpit

Space Shuttle Book Case
At aBaby

Rocket Table
At UncommonGoods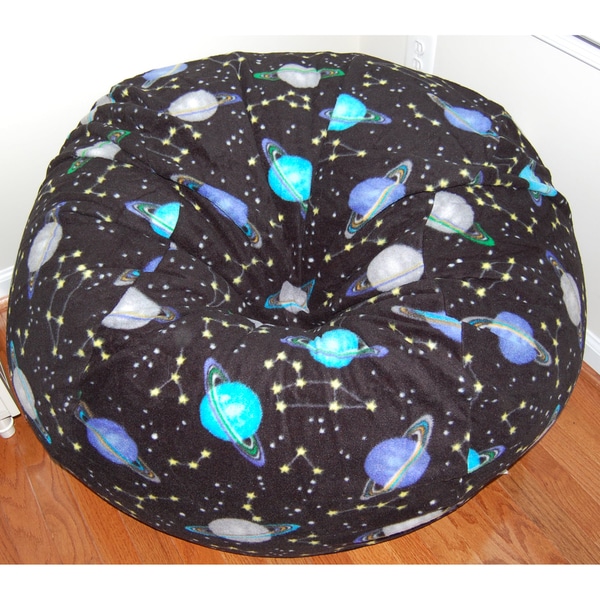 Ahh Products Outer Space Fleece Washable Bean Bag Chair

Solar System Ottoman Pouf from DiaNoche Designs
Space and Rockets Wall Art

rocket art print
Available in red rocket (shown), cotton candy or navy blue
Choose from five sizes, starting at $75 at Mint

Spaced Out Shadowbox
At UncommonGoods

Space Alien Canvas Wall Art
At Bed Bath & Beyond

Rocket I

The Kids Room Blue and Red Wall Plaque, Space Ship

The Kids Room Wall Plaque, Planet

The Kids Room Blue and Red Wall Plaque, Planet
Outer Space Rugs
I'm fascinated by the fact that the rugs listing all the planets in our solar system still include Pluto. Somewhat a sign of the age of the design, but maybe also a lack of desire to acknowledge it got demoted? If it bugs you, make sure you steer toward the designs that are more generically space and not planet specific.

Circo Solar System Area Rug
At Target.com

Mohawk Home Aurora Solar System Area Rug
At BedBathBeyond.com

Fun Rugs Outer Space Area Rug
At BedBathBeyond.com

Cosmos 4 x 6 Rug
from: The Land of Nod

Fun Rugs Fun Time Solar System Rug
At Kohl's

LA Rug Rocket Rug 39″x58″
Disclosure of Material Connection: Some of the links in the post above are affiliate links. This means if you click on the link and purchase the item, I will receive an affiliate commission, probably enough to get a stick of gum. I generally only recommend products or services on this blog that I would use personally and believe you will find cool as well. I am disclosing this in accordance with the Federal Trade Commission's 16 CFR, Part 255: "Guides Concerning the Use of Endorsements and Testimonials in Advertising."