Paisley Decor
Just a touch of elegance for the room
Looking to add a little paisley to your bedroom? Bring in a subtle pattern in a rug or a bold version in a chair. Add some wall art and you're all set with your bedroom theme.
This really is a great pattern to use in a bedroom, especially for a girl with more sophisticated tastes. Not sure why, but I find paisley more grown-up than polka dots and far more interesting than plaids. But not quite as grown-up as toile, so there you go. But I digress just a wee bit!
Keep in mind that we are talking about pattern here, so you need to keep scale in mind along with colors. Not to mention, just how you're going to blend it in with the rest of the room. Something like the purple and green chair in the picture here (doesn't that girl look like she loves her new seat!) would go nicely in a room with lots of solids in those same colors, along with a small stripe.
Unlike polka dots and stripes, this pattern isn't always as easily mixed into random bedroom themes, so also something to consider as you choose the pieces for the room.
Rugs For The Floor
This is a great place to see the very different ways to add this pattern. Some of these really draw attention to themselves and the teardrop shape with not just bright colors, but also high contrast. The ones with the uber-large single teardrop are very dramatic. But then, you can also choose something in a muted monochrome to bring in a subtle pattern.

Momeni Mod Rug, Funky
Available in several sizes
A piece like this should be your focal point to build the room around

Hip Hop Pink Kids Rug
$159 at Wayfair
Kind of bandana like in design

Surya Candice Olson Modern Classics Paisley Rug
At Kohls.com
Paisley Decor

Child to Cherish Piggy Bank, Paisley
Lamps and Lighting
Not entirely sure why tall stick lamps are the trend for this particular pattern. But definitely count on finding the pattern in the shade rather than on the lamp itself. Which is nice in the long term because you can easily switch out the shade for a new look.

Floor Lamp with Shade in Paisley
$159.99 at Wayfair
Hang It On The Walls

Paisley Dreams Personalized Growth Chart
$49.99 at Wayfair

Art 4 Kids 37066 – Paisley Gardens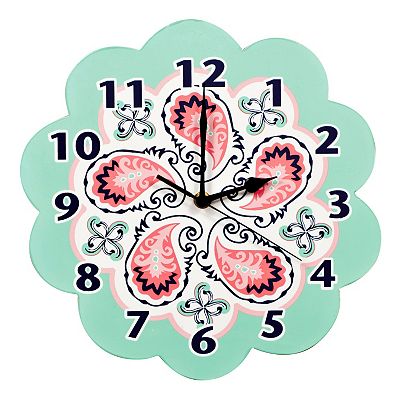 Trend Lab Paisley Wall Clock
At Kohls.com
Furniture Selections
Much like with the rugs, we have dramatic, "look at me", has to be a paisley theme designs and far subtler, can go with anything in that color looks.

Child's Swivel Chair
$285 at aBaby
Pattern is pink, green and brown
Free shipping

Twin Paisley Studio Chair
$119 at Wayfair
Disclosure of Material Connection: Some of the links in the post above are affiliate links. This means if you click on the link and purchase the item, I will receive an affiliate commission, probably enough to get a stick of gum. I generally only recommend products or services on this blog that I would use personally and believe you will find cool as well. I am disclosing this in accordance with the Federal Trade Commission's 16 CFR, Part 255: "Guides Concerning the Use of Endorsements and Testimonials in Advertising."