Pirate lights to help you find that treasure
Get some help finding your way to the treasure chest with some great pirate lights and lamps. Whether a table lamp for doing homework or reading, a night light for chasing away the bad guys or ceiling fixtures to light up the entire room, there's a pirate light for your pirate bedroom.
My favorite to date is the pirate ship hanging lamp at the end from The Land of Nod. The white works with any color scheme you've already come up with and it's a classy piece.
Pirate Table Lamps

Cotton Tale Pirates Cove Decorator Lamp and Shade
$60.99 at Wayfair

Guidecraft Pirate 3-D Lamp
$75.60 at Wayfair
Free shipping

Treasure Island Table Lamp
$46.20 at Wayfair
Cute! Teddy bear pirates!
Pirate Wall Sconce

Pirate's Treasure Wall Sconce
$119.00 at aBaby.com
Pirate Night Lights

Oopsy Daisy Fine Art for Kids Pirate Hat Night Light

Oopsy Daisy Fine Art for Kids Pirate Ship Night Light

Pirate Ship Night Light

Cool Pirate Skull and Crossbones Nite Lite
Pirate Ceiling Lights and Fans

Niermann Standby Pendant Lamp, Pirateship

Captain's Ceiling Light

Pirate's Treasure Chandelier
$340.00 at aBaby

Kids Lighting: Pirate Ship Ceiling Lamp – Jolly Roger Lamp Shade – $60.00
from: The Land of Nod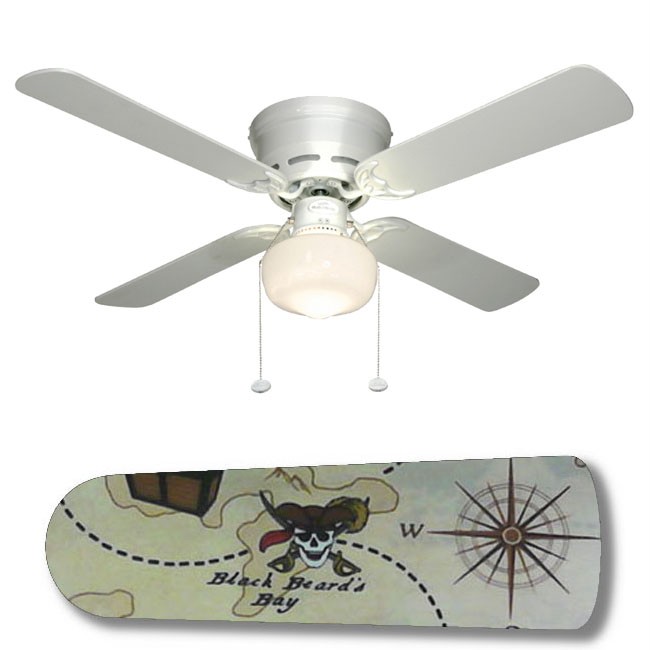 New Image Concepts 3083 42 in. Ceiling Fan with Lamp Pirate Treasure Map

Dalber Hanging Lamp with Pirate Design
At AmazonUK
Eligible for US shipping

Dalber Pirates Ceiling Lamp 3-Bulb
At AmazonUK
Eligible for US shipping
Disclosure of Material Connection: Some of the links in the post above are affiliate links. This means if you click on the link and purchase the item, I will receive an affiliate commission, probably enough to get a stick of gum. I generally only recommend products or services on this blog that I would use personally and believe you will find cool as well. I am disclosing this in accordance with the Federal Trade Commission's 16 CFR, Part 255: "Guides Concerning the Use of Endorsements and Testimonials in Advertising."