Skulls, ships, treasure maps for the floor
Don't forget the floor when you're decorating your pirate bedroom! Options with ships, treasure maps and more can be had to put that finishing touch on the room. Whether to protect your carpet or just add some interest, there's a pirate rug sure to fit your needs.
Personally, I love the blue pirate ship one with the Black Sea Crew. A classic ship silhouette, very clearly labelled to warn you what's coming.
Skull and Crossbones Pirate Rugs
Typically seen on the flag flying overhead, this is a classic element for the theme. And some nice executions in the designs here. I definitely like the black background best as it evokes the traditional flag best.

African Adventure Design Skull Novelty Rectangular Rug
$87.36 at Wayfair
Free shipping
Cartoon Style Pirate Rugs
A little more childish, a lot more colorful! These guys are definitely meant to be the focus point of the room, so consider pairing them with more muted bedding in a generic design to set the theme.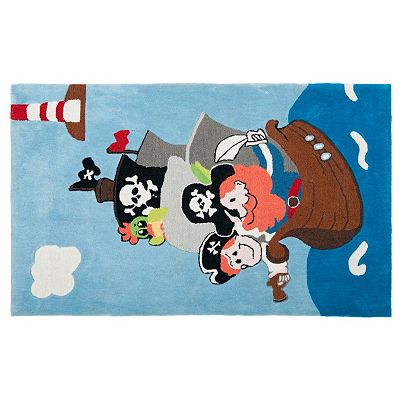 Safavieh Kids Ships Ahoy Rug
At Kohls.com

Fun Rugs Olive Kids Rug
$29 for the large size at Wayfair
Size: 3'3" x 4'10"
Two sizes available

Kid Pirate Captain Rug
Map and Maze Rugs
Separated these out because the colors are a big more muted than the brightly colored ones above.

Milliken Whippersnapper Maze Fool's Gold Kids Rug
Size: 3'10" x 5'4
Designs with Pirate Ships

Treasure Cove Pirate Accent Floor Rug by Sweet Jojo Designs

Kids TIME OUT Behavior Rug Mat Treasure PIRATE SHIP
Disclosure of Material Connection: Some of the links in the post above are affiliate links. This means if you click on the link and purchase the item, I will receive an affiliate commission, probably enough to get a stick of gum. I generally only recommend products or services on this blog that I would use personally and believe you will find cool as well. I am disclosing this in accordance with the Federal Trade Commission's 16 CFR, Part 255: "Guides Concerning the Use of Endorsements and Testimonials in Advertising."