Robot Decor
Encourage a love for our metal overlords with some cute robot decor! After all, the machines will take over some day, right? Ha!
Lots off options from cute to cool, especially when you get into the retro looking stuff.
Robot Wall Decor

Mudpuppy Robot Wall Clock

Munch Wall Decor, Antenna Bot
Robot Canvas Wall Art
At BedBathandBeyond.com

Robotsonni by Sonni
At Little Circus

Oliver Gal, Roborama, Framed • Oliver
At One Kings Lane

Munch Wall Decor, Idea Bot

Munch Wall Decor, Blue Bot

Munch Wall Decor, MB Bot

Munch Wall Decor, Green Bot

Oopsy daisy Yellow Robot Growth Charts by Max Grover
$49 at Oopsy daisy
Robot Lights and Lamps

Circo Modern Robot Lamp
$26.99 at Target.com

Hot Selling Stunning Creative Retro Robot Table Lamp
from: BeddingInn.com

Lolli Living Lamp Base – Robot
$61.99 at Target.com

Kids Line Robots Play Lamp
At Kohls.com

Red and Blue Robot Night Light Nite Lite

Retro 1960`s Silver Robot Night Light Nite Lite

Bedtime Buddy Nightlight (Robot) – Robot Bedtime Buddy Nightlight
from: The Land of Nod

Fashion Creative Cartoon Children's Room Ceiling Lamp Baby Room Ceiling Lamp Bedroom Ceiling Lamp (kingdom of robots)

Night Light – Robitic Uprising – Childrens Robot – Kids

Lamp-In-A-Box Featured Artists – Carrie Masters "Robots in Space" Tripod Lamp

Oopsy daisy Play Robot Night Lights by Winborg Sisters
$29 at Oopsy daisy

Oopsy daisy Robot Repairs Night Lights by Sorry You're Happy
$29 at Oopsy daisy

Oopsy daisy Robots Lamps by Winborg Sisters
$69 at Oopsy daisy
Robot Decor

Present Time Wanted The King of Robot Alarm Clock

Elegant Baby Photo Frame for Boys, Play Ball Robot

Whimsical Blue Robot Coin Bank with Springy Legs

Rechargeable Robot Speaker – Blue
$35.50 at Walmart.com

Matryoshka Madness Robot

Adeco [BK6372] Kid Bookends – Set of 2 (Wood) ?C Blue and Grey Robot

funny robot fabric photo frame picture frame Japan Decole

Robot Money Piggy Bank Set

Present Time Silly Small Robot Money Bank, Assorted Colors

Robot Piggy Bank

JIP Alarm Clock Robot Metal, Yellow
At AmazonUK
Eligible for US shipping

Whimsical Red Robot Coin Bank with Springy Legs

Miniature Robot Red & Silver Novelty Desktop Collectors Clock
Robot Rugs

Olive Kids Go Robots Rectangular Rug
At Bellacor.com

The Rug Market Kids Play Fun Rugs – Robots
At Bluefly.com

Tayse Kids Life 5520 Area Rug
At Hayneedle

Lolli Living Rug – Robot
$69.99 at Target.com

Android Foundry Bubble Bot Android Rug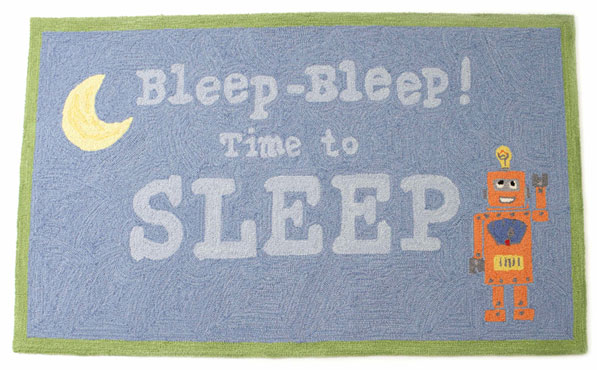 Little Acorn Bleep bleep robot rug
$287 at UnbeatableSale
Not sure they should have used bleep!

Momeni Robots Rug, Steel Blue
Robot Art

Robot Wall Art – Outer Space Collection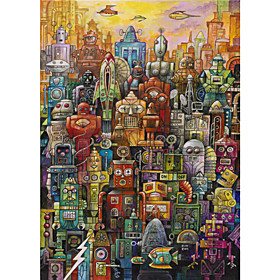 Printed Art Cartoon Robo Dootles by Bill Bell
Starts at $28.99 at LightInTheBox
Different sizes and print types available

Cici Art Factory Wall Art, 1 2 3 Robot, Small
I gave up trying to decide on what robot canvas art from Oopsy daisy to include. Just too many designs and styles to choose from. So I picked five of my favorites to show you here; they let you see just how diverse the art is. The link takes you the entire category so you can see more.

The Little Acorn Frineds Come in All Colors Robot Wall Art – $93.38
from: Wayfair
Each of the four robots available as individual pieces as well

Kids Wall Art: Retro Vintage Blue Robot Artwork – Blue Retrobot Wall Art – $59.00
from: The Land of Nod

Kids Wall Art: Retro Vintage Red Robot Artwork – Red Retrobot Wall Art – $59.00
from: The Land of Nod

Kids Wall Art: Retro Vintage Green Robot Artwork – Green Retrobot Wall Art – $59.00
from: The Land of Nod

Robot Obey
At AllPosters

Peek-a-Boo Heroes: Robot
At AllPosters

Robot 2
At AllPosters

Dancing Robot on Wood Floor
At AllPosters
Disclosure of Material Connection: Some of the links in the post above are affiliate links. This means if you click on the link and purchase the item, I will receive an affiliate commission, probably enough to get a stick of gum. I generally only recommend products or services on this blog that I would use personally and believe you will find cool as well. I am disclosing this in accordance with the Federal Trade Commission's 16 CFR, Part 255: "Guides Concerning the Use of Endorsements and Testimonials in Advertising."