Sports Growth Charts For Your Growing Athlete
Mark their progress to the goal line!
Sports is all about the numbers. Keep track of your athlete's stats as they grow over the years with a sports growth chart. Whether you put it in their bedroom or make it part of the man cave, it's sure to be a keepsake you will cherish.
I've gathered designs that generally include the big three in a group – football, basketball and baseball – although sometimes you'll see other games tossed in there as well. I also found some other cool styles that focus just one one game or a favorite NFL or MLB team.
I grouped everything by material – wood, canvas or wall decal being the three typical choices. If you're looking for something to be a long-lasting memory, the first two might be the better choices.
Wooden Sports Growth Charts

Growth Stick with Sports Topper

The Kids Room Boy's Sports Growth Chart
Canvas Designs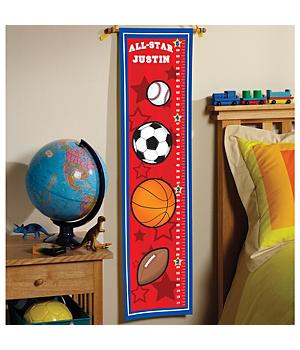 Personalized All Star Height Marker
$19.99 at Personal Creations
Add child's name up to nine characters
Comes with wood rod and ribbon for hanging

Art 4 Kids Pennant Style
$74 at Wayfair
Free shipping
Letters of name included on pennants
Includes ice skates, roller blades and tennis ball with more traditional games
Single Sport Growth Charts

KE Specialties NFL Boys Growth Charts
designed to look like a football field
8 adhesive tabs for hanging
14 football-shaped photo frame markers
 Football Baseball Basketball Soccer Lacrosse
Sports Locker Growth Charts
$49.00 each at Oopsy daisy
Locker art has all the gear for that sport
Sports Growth Chart for Girls
 Soccer Softball Cheerleading Basketball Lacrosse
$49.00 each at Oopsy daisy
Wall Decal Sports Growth Charts

Sports Growth Chart Wall Decal
$42 at Wayfair

Children's Growth Chart – Sports Locker (Blue)

Children's Growth Chart – Sports Locker (Red)
Disclosure of Material Connection: Some of the links in the post above are affiliate links. This means if you click on the link and purchase the item, I will receive an affiliate commission, probably enough to get a stick of gum. I generally only recommend products or services on this blog that I would use personally and believe you will find cool as well. I am disclosing this in accordance with the Federal Trade Commission's 16 CFR, Part 255: "Guides Concerning the Use of Endorsements and Testimonials in Advertising."