Disney Princess furniture options for any room
Your little princess needs a throne, right? Maybe even a talking one! Find her a Disney Princess chair that will fit the bill and be the perfect addition to her themed bedroom.
Check out the beds – with canopy even! – toy boxes, organizers and chairs available for a Disney Princess theme. They feature your favorite princesses of course and all that pink will make your little girl happy.
Much of the Disney Princess furniture you'll find here is sized down for toddlers, although the bed tents can be used on a twin bed. And of course storage pieces like dressers work for any size child.
Disney Princess Beds and More

Disney Princess Toddler Bed with Canopy
$63.99 at Walmart.com

Delta Children's Products Disney Princess Convertible Toddler Bed
At Walmart.com

Disney Princess Carriage Bed
At AmazonUK

Disney Princess Feature Toddler Bed
Available at AmazonUK
Eligible for US shipping
Detailed 4 poster castle canopy shape
Turret at foot of the bed can be removed and used as a free standing play tent
Disney Princess Tables, Chairs and Other Seating

Marshmallow Disney Princess Flip Open Sofa 2
At diapers.com

Disney Princess Club Chair
At CASA.com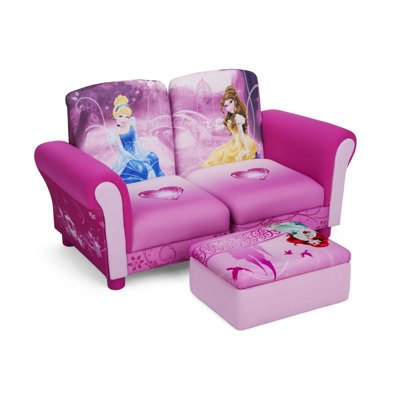 Disney Princess Kids Sofa and Ottoman – $128.08
from: Wayfair
Two-part sofa features Cinderella on one half and Belle on the other
Ariel and a castle on the ottoman top
Lots of pinks swirls and hearts on the seats

Disney Princess Upholstered Chair

Delta Disney Princess Upholstered Chair
At Target.com

Marshmallow Furniture Disney Princess Flip Open Sofa
Aurora, Merida and Snow White seen when open
Cinderella, Bella and Rapunzel when closed

Disney Princess Mini-Saucer Chair
$17.97 at Walmart.com
Features the original three of Cinderella, Aurora and Snow White

Disney Princess Deluxe Upholstered Chair
$49.98 at Walmart.com
Three shades of pink
Design features crown on front and cameo on seat

Glow Kid's Recliner
Recliner version of the above

Disney – Princess Square Table and Chair Set
$40.98 at Walmart.com

Kidz World Disney's Princess Kid's Recliner

Topstar High Power Disney Princess Motive Desk Chair
At AmazonUK
Eligible for US shipping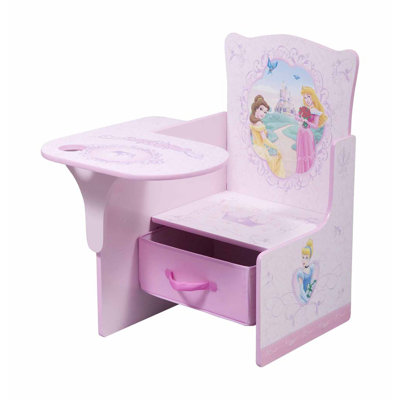 Disney Princess Kids Chair Desk with Storage – $51.99
from: Wayfair

Disney Princess Mdf Desk And Stool

Kids Only Disney Princess Nouveau Activity Table Set

Disney Princess Toddler Bean Bag Sofa Chair

American Furniture Princess Fairy Tale Dreams Print Bean Bag Cover

Disney Princess "Tiara Jewels" Printed Pouf Ottoman

Kids Only Disney Princess Nouveau Sit N Store Chair
Crown back says "Dream and the world dreams with you"

3 Pcs Disney Princess Wooden Table Set
Disney Princess Storage and Organizers

Disney Princess Toy Organizer
from: Wayfair
For the princess with a lot of toys!

Disney Princess Multi-Bin Toy Organizer, Pink
At Walmart.com
five fabric storage bins in pink with silhouette cameos
Fabric toy box as bottom shelf with Ariel, Belle and Cinderella
Rapunzel up in her tower on the side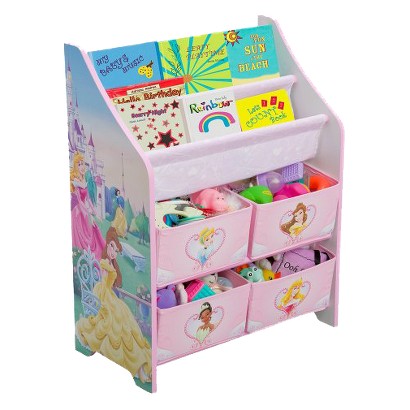 Disney Princess Book and Toy Organizer
At Target.com

Disney Princess Collapsible Storage Trunk

Disney Princess Free Standing Closet
Says "Love to Sparkle across the top"
Aurora and Snow White on one door, Belle and Ariel on the other

Disney Princess Collapsible Storage Trunk
Top says "Dreamers have more fun"

Delta Night Stand, Princess
Disclosure of Material Connection: Some of the links in the post above are affiliate links. This means if you click on the link and purchase the item, I will receive an affiliate commission, probably enough to get a stick of gum. I generally only recommend products or services on this blog that I would use personally and believe you will find cool as well. I am disclosing this in accordance with the Federal Trade Commission's 16 CFR, Part 255: "Guides Concerning the Use of Endorsements and Testimonials in Advertising."