Toddler-sized chairs, beds, tables and more with Hello Kitty
Now she can be everywhere in the bedroom with these great Hello Kitty furniture pieces. Go bold with a bed with a Hello Kitty headboard or small with a Hello Kitty step stool. No matter what you choose, your little girl (or maybe you!) is sure to love it.
There are several designs to choose from, especially in chairs and toy boxes. The purple options have gone away, leaving us with choices that are pink, pink, pink for the most part. You're sure to find one that fits with the color scheme you're planning for. Well, OK. Your color scheme has to involve pink in some way basically. Do plan carefully if you're trying to match pink in a piece of bedding, though. If you're going with Hello Kitty furniture, you might consider pairing it with some other themed-bedding, like hearts.
Take care with sizing as you make choices. A lot of the furniture is sized for toddlers, making it a piece that won't last you more than a couple of years. (Which might be all the furniture last anyway!) Other items like dressers and bean bag chairs and storage boxes will continue to work no matter how big your girl gets.
Hello Kitty Furniture for the Bedroom
Shaped pieces and other designs
This is where the big guys are. The furniture pieces that require a serious amount of Hello Kitty love and a huge commitment of budget. Not to mention to keeping this as a theme for a while! (Unless you can find someone to buy it off of you later, which will probably be no problem at all, actually.)
Most of the Hello Kitty furniture pieces here use white as the base color, with pink and/or red and touches of black rounding out the scheme. My favorites are definitely the ones shaped like Hello Kitty's head!

Hello Kitty Plastic Toddler Bed
At Amazon.com

Delta Children Plastic Toddler Bed, Hello Kitty
At Amazon.com

Hello Kitty Toddler Bed
Available at AmazonUK

Hello Kitty Toddler Bed with Underbed Storage and Bedside Shelf
Available at AmazonUK
Same as above, just a few added options

Hello Kitty Sleeptight Single Bed, Multi-Color
Available at AmazonUK

Hello Kitty Light Up Headboard
Available at AmazonUK
Too cute! The light is in her bow!

Fabric Hello Kitty Wardrobe
Available at AmazonUK
Answers the "not-enough-closet-space" problem
Hello Kitty Bed Tents
Inexpensive and easy option to turn a bed to HK style!

Sanrio Hello Kitty Sassy Slumber Bed Tent
Great place to hide and snuggle in with HK!
Elastic loops go around corners of a twin-sized mattress

Hello Kitty Mid Sleeper Bed Tent Pack
2 fabric bed panels – shop and bed canopy
At AmazonUK
"Mid-sleeper bed" seems to be a British term for a low loft bed
Door in the bottom panel lets you crawl under the bed
Hello Kitty Tables and Chairs
Desks, tables, and other activity options

Worlds Apart 'Hello Kitty' Table and Stool
Available at AmazonUK

Delta Children Hello Kitty Table and Chairs
Love how colorful this set is

Jemini Dressing Table and Stool Wood with Hello Kitty Theme
At AmazonUK

Worlds Apart Hello Kitty Dressing Table and Stool
At AmazonUK
Hello Kitty Chairs and Sofas
Perfectly sized for toddlers and small children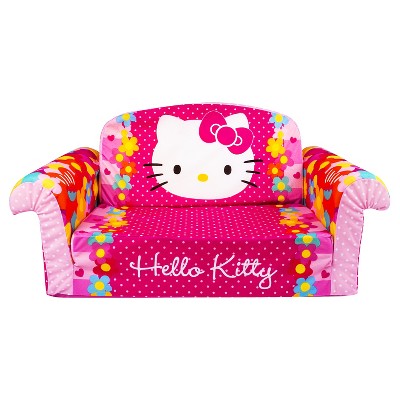 Marshmallow 2-in-1 Flip Open Sofa – Hello Kitty
At Target.com

Marshmallow Furniture, Children's Upholstered Comfy Chair, Hello Kitty
At Target.com

Delta Children Club Chair, Hello Kitty
At Amazon.com

Hello Kitty Toddler Bean Bag Chair
At Amazon.com

Hello Kitty Deluxe Upholstered Chair
At Amazon.com

Hello Kitty Bean Bag Chair
At Amazon.com

Hello Kitty Toddler Saucer Chair
At Walmart.com

Hello Kitty Tween Flip Out Sofa
At AmazonUK

Delta Children's Hello Kitty Upholstered Chair
At AmazonUK

Hello Kitty Figural Bean Bag Chair
At Walmart.com
Hello Kitty Toy Boxes and Storage

Hello Kitty Toy Box

Hello Kitty 6 Bin Storage
Available at AmazonUK

dar Living Storage Ottoman 15×15, Hello Kitty
At Amazon.com

Hello Kitty Shoe Shelf

Delta Children's Hello Kitty Multi-Bin Toy Organizer
At AmazonUK