Barbie Wall Decals
Everyone's favorite doll comes to the bedroom with Barbie wall decals. Whether in modern garb or as princess, you can do your space up right with your favorite fashion maven!
We've got a couple of different styles here – some direct from the movies like the dancing princesses shown here and others that are image of actual toys. And even some in the more modern (and young!) looking artwork you'll find in book versions. But all in about a hundred shades of pink it seems like. Although, we know she has her own distinct shade for sure.
Barbie Wall Decals
Here's where we really see how our favorite doll has changed over the years. The newer set designs include the cartoon version of her based on the style in current books, while a couple other sets use photographic images of the girls.
While the walls in the pictures are painted pink, you'll want to make sure you have enough contrast for the images to show up well since they also have quite a bit of pink in them.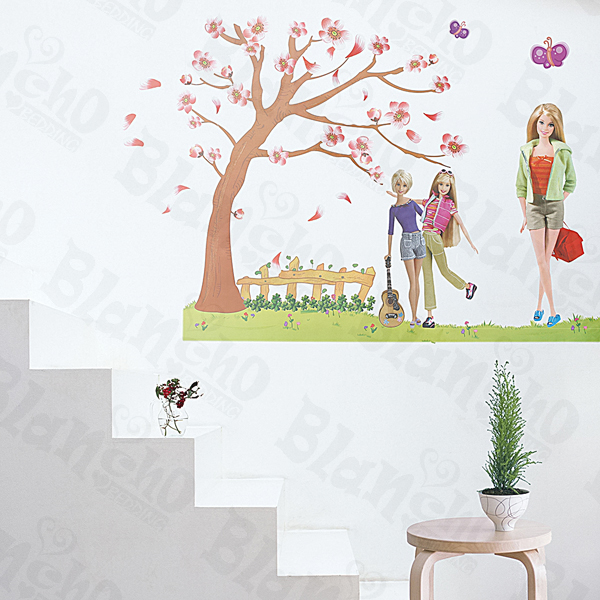 Photo Image Stickers
$9.89 at Blancho Bedding
Includes a tree, tons of flowers and a few butterflies

Funtosee Décor Barbie Wall Decal Kit
At AmazonUK
Very retro style versions of the doll and images
Available for shipping to US
Set of 48, Pinks And Pastels
Lots of heart shapes and heads, along with more than a few shoes

Barbie 12 Dancing Princesses Peel & Stick Wall Appliques Set

African American Barbie Jumbo Stick Up – Wall Decal
Barbie Logo and Head Graphics
Many of these come in your choice of color and can even be customized on size.
CHECK PRICE
CHECK PRICE
Barbie Wall Border Designs

Barbie 12 Dancing Princesses Peel & Stick Wall Border

Barbie Malibu Border

Barbie Rock and Roll Border

BARBIE Murals Glamour Stick-Ups Wallpaper Border Mural
Massive Murals

Barbie Chair Rail Prepasted Mural

Walltastic Wallpaper Mural, 8 x 10 ft
At AmazonUK
Available for shipping to US
Boy, but that girl loves pink!
Great paired with similar zebra and damask details to those in the mural
Go opposite to the image with mostly black and white with splashes of pink so as not to over-do it

'BARBIE' Photo Wallpaper Mural
Says "little girl with a big dream"

'BARBIE' Photo Wallpaper Mural
Says "never enough sparkle"
Disclosure of Material Connection: Some of the links in the post above are affiliate links. This means if you click on the link and purchase the item, I will receive an affiliate commission, probably enough to get a stick of gum. I generally only recommend products or services on this blog that I would use personally and believe you will find cool as well. I am disclosing this in accordance with the Federal Trade Commission's 16 CFR, Part 255: "Guides Concerning the Use of Endorsements and Testimonials in Advertising."