Dora the Explorer Wall Decals
Dora and Boots are heading on an adventure through your kid's bedroom. If you're planning on this bedroom theme, tossing a few of these decals up on the walls are a great way to start. Easy and dramatic with little fuss.
Many of these designs use Dora's traditional look with the pink t-shirt and orange shorts in the picture here. But more and more, I'm seeing her in princess, dancer and casual garb. I like when they dress her up in other outfits because it means we see dresses as well as other shorts and pants, not to mention other color combinations.
For any kids space, they make a great addition to the walls. Check out the Dora the Explorer options below – individual stickers to place around the room, complete kits to create a scene or large murals. There's a style, size and design perfect for your child's room.
Dora the Explorer Wall Decals
These are over-sized designs that give you one big Dora to add to the wall. Classic designs that include Boots and Backpack or variations like Enchanted Forest with her in a purple and white princess dress.

Dora, Backpack & Boots
2'2″W x 3'10″H

Dora the Explorer – Fathead Jr.

Dora's Enchanted Forest Giant Wall Decal
At RoomMates

Dora the Explorer Wall Sticker
At RoomMates

Dora & Friends Collection

Dora & Friends
Dora the Explorer Wall Decal Sets
Each of these come with several small stickers that are great on the wall or even on drawer fronts and closet doors. Typically more than one Dora is included, then accents like stars, flowers, trees and other items. The Enchanted Forest even includes a unicorn!

Dora's Enchanted Forest Decals
At RoomMates

Dora the Explorer Stickers
At RoomMates

Dora the Explorer Self-Stick Appliqué
Four sheets of stickers
Eligible for free shipping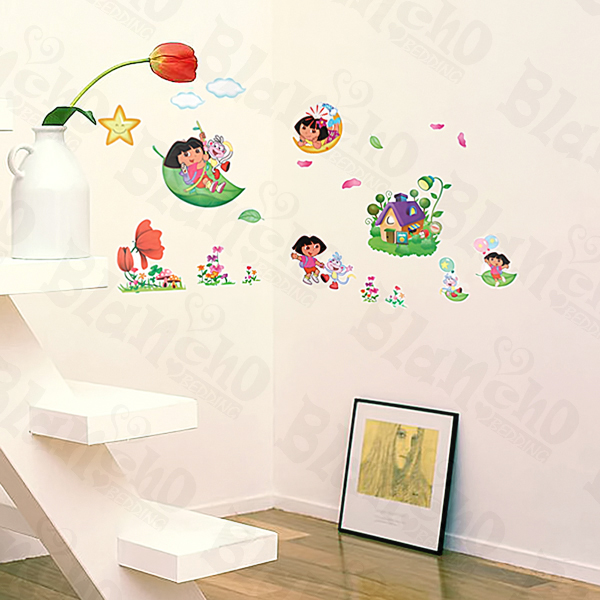 Dora Wall Decals
$9.89 at Blancho Bedding
Dora the Explorer Wall Borders

Dora Explorer Dance Baila! Wall Border
In purple
Also available in pink

Dora Scenic Wall Border
Mural Selections

Dora Headboard Mural
Yep, a sticker that serves as a decorative headboard

Dora & Friends Mural

Dora the Explorer Scene
Great backdrop for your Dora bedding

Dora the Explorer Scene Setter
Disclosure of Material Connection: Some of the links in the post above are affiliate links. This means if you click on the link and purchase the item, I will receive an affiliate commission, probably enough to get a stick of gum. I generally only recommend products or services on this blog that I would use personally and believe you will find cool as well. I am disclosing this in accordance with the Federal Trade Commission's 16 CFR, Part 255: "Guides Concerning the Use of Endorsements and Testimonials in Advertising."