Pirate Wall Decals
It's adventure on the high seas with a pirate bedroom and a great way to start is with pirate wall decals and murals. Swords, ships, treasure maps and the good old Jolly Roger to choose from when decorating your cabin.
It's interesting because the colors you'll find most often in this scheme are browns, reds, blues and black. Which make sense – brown wood for boats, red blood, blue water and black flags. Occasionally I find something a wee bit more colorful, but that isn't the norm for sure. Elements that crop up a lot include ships, skull and crossbone symbols, swords and treasure maps. Occasionally a set will come with a bit of the whole caboodle, like the one in the picture here, but you can also choose just one element to use for your art.
Pirate Wall Decals
Crews, captains, maps and more
Designs here include not just the scurvy crew, but also swords and treasure maps. A few of the collections have humans along with the various elements you'd expect to see here. I like the classic designs with just a single element best – easier to work into a space that already has a lot of pieces that fit the theme.

High Seas Porthole Giant Graphics
At RoomMates
Each porthole is a 20″ circle

Treasure Hunt Sticker Set
At RoomMates
45 different stickers
Phrases like Land Ahoy! and Shiver Me Timbers! along with maps, trees and even a mermaid tail

Pirate Wall Decals
At RoomMates
Highly realistic art perfect for a classic Treasure Island room
Low stock, so order soon
17 stickers total

Platin Art Wall Decals Deco Sticker, Pirate Island • diapers.com

Wall Pops Argh Pirates Dots • diapers.com

JP London Fully Removable Pirate Appliques

Treasure Map Dry Erase Giant Sticker
At RoomMates
Dry erase board plus wooden sign and coin graphics

Pop and Lolli Merry Munchkins Ahoy Matey Stickers
from: Pokkadots & ModernNursery
Free shipping
19 fabric stickers

Peel and Stick Pirate Panel Headboard Size: Twin
Sherri Blum Designs

Sherri Blum Accessory Peel and Stick Set

Sherri Blum Growth Chart Sticker

Sherri Blum Treasure Map Mural
Peel and stick

Sherri Blum Scroll Sticker Sign
Personalization available
Pirate Ship Wall Decals
Can't Set Sail Without a Ship
Cartoon in black, red and blue or dark and sinister all in black. These cutters are ready to set sail and set the theme. Some of these are designed to coordinate with specific bedding sets, while others you can actually pick your color. My favorite at the moment is this first one here from RoomMates – the mottled coloration makes it look a little ghost ship like.

Giant Ship Design with Alphabet
At RoomMates
Includes a large ship graphic, as well as all the alphabet letters you need to spell out your child's name
82 total stickers, so plenty for most names

Giant Pirate Ship Wall Decal
At RoomMates

Fathead Collection

Pop and Lolli Boat Stickers
from: Pokkadots & ModernNursery
Assembled boat is almost 40″ tall
48 fabric stickers
Free shipping

Pop and Lolli Sailing Seas Stickers
from: Pokkadots & ModernNursery
48 fabric wave stickers
Design repeats the waves from the above

Pirate Ship Wheel with Custom Name Fabric Wall Decal
Part of the ship, right?
Pirate Wall Borders
We have a similar mix as in some of the other categories. A little bit of cutesy, a little bit of serious. I especially love the close-ups of the cannons sticking out the side and the sail waiting to be unfurled.

Treasure Hunt Peel & Stick Border
At RoomMates
Pairs with one of the sticker sets at the top

York Wallcoverings Ship Border
Love this one with the cannons ready for action
Pirate Wall Murals
Great dramatic design for one wall in a room

Island Beach and Ship XL Wallpaper Mural 6′ x 10.5′
At RoomMates

Pirate Ship
Prices start at $100 at MagicMurals
Three sizes to choose from or make it custom sized

Pirate Ship Sailing
Prices start at $100 at MagicMurals
Three sizes to choose from or make it custom sized

X Marks the Spot
Prices start at $143 at MagicMurals
Three sizes to choose from or make it custom sized

Skull and Cross Bones
Prices start at $143 at MagicMurals
Three sizes to choose from or make it custom sized

Ship Captain
Prices start at $143 at MagicMurals
Three sizes to choose from or make it custom sized
Personalized Pirate Wall Murals
These come from Murals Your Way and are customizable in several different ways. They'll add your child's name to the mural, add or remove sections to make it the exact size you need and even change some of the colors on some. Pretty cool. These are some of the pirate designs they carry. Prices start at around $170 and go up depending on the size, material and amount of customization.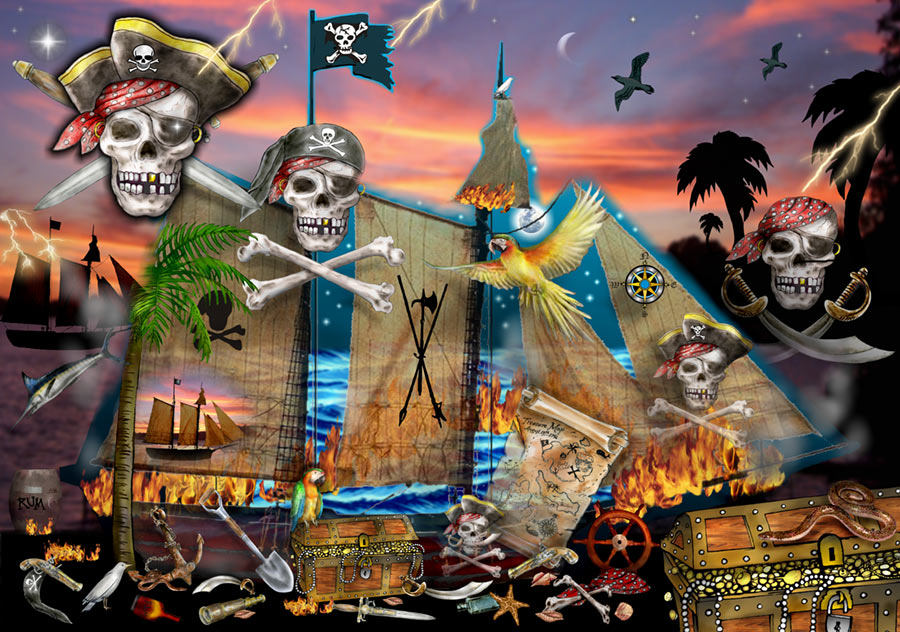 Pirate Dreams Vinyl Mural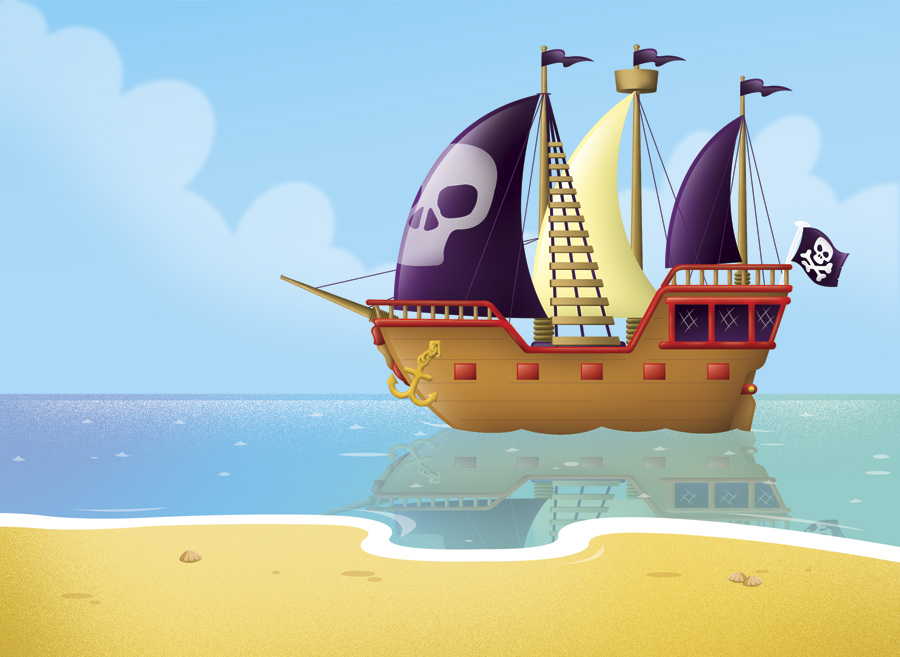 Ship Vinyl Mural
Disclosure of Material Connection: Some of the links in the post above are affiliate links. This means if you click on the link and purchase the item, I will receive an affiliate commission, probably enough to get a stick of gum. I generally only recommend products or services on this blog that I would use personally and believe you will find cool as well. I am disclosing this in accordance with the Federal Trade Commission's 16 CFR, Part 255: "Guides Concerning the Use of Endorsements and Testimonials in Advertising."