One great semi-generic theme I love for kids rooms is the backyard. Sky, grass, trees – they make a great backdrop for any number of other more specific theme pieces.
Not to mention it's easily adapted to either gender. Fly some butterflies in a girls' room or airplanes in a boys.
And one great centerpiece for such a theme? A clubhouse bed! (Even, better? A tree bed, but I haven't found one of those yet.)
I've tracked down a few options here that all mimic something you might build in your back yard – clubhouse with a wood fence or a log cabin playhouse. These all involve either bunkbeds or some sort of loft option.
The first two are different configurations of the same bed. One has just one bed and a clubhouse, white the other has two beds and built-in drawers. Both have picket fence trimmings and come in different color options, including the gray weathered color shown in the first one.
The others are ones that work with the theme but have pluses and minuses. The first is just a bed tent, so you would need to get an actual bed to put it on. Still, inexpensive works nicely, thank you. The last one is a low loft bed, which is more common in Europe than here in the states. Think a short bunk bed with just the one bed at the top. Basically, you can treat the area under the bed as storage or a play space.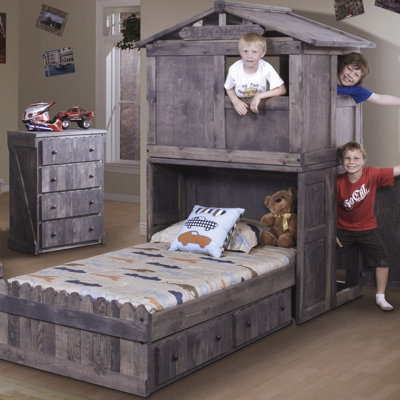 Twin Platform Bed with Club House and Storage
from: Wayfair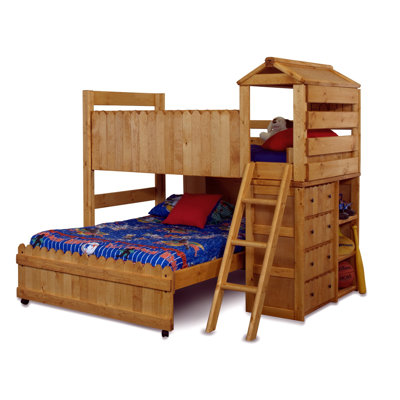 Twin Over Full L-Shaped Bunk Bed with Ladder
from: Wayfair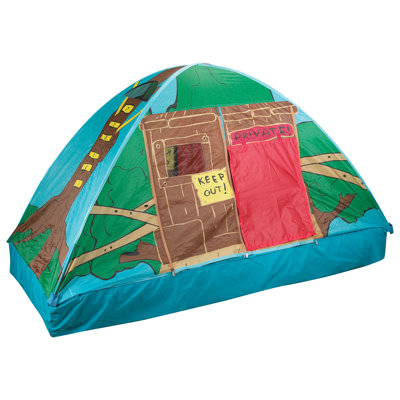 Tree House Bed Tent
from: Wayfair

Bolton Furniture  Mission Low Loft Treehouse Bed
At Amazon.com