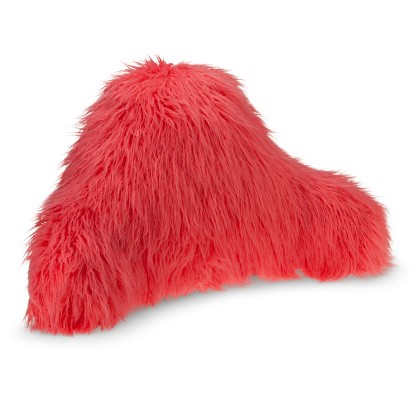 You know Gossamer? The monster? No?
Yes you do, you just don't know that he has a name. He's that big red monster who gets a manicure from Bugs Bunny in that cartoon episode. "My. I bet you monsters lead in-teresting lives." That one.
Oh. (Ha.)
Anyway, he was the first thing I thought of when I saw this new furry bed rest from Target. It's pink rather than orange, but you can see the resemblance, right? It also comes in blue and green, but this one looks like our favorite monster for sure. You can snag one for your favorite teen for just $24.99.
And just for the fun of it, here's Bugs and Gossamer.
Disclosure of Material Connection: Some of the links in the post above are affiliate links. This means if you click on the link and purchase the item, I will receive an affiliate commission, probably enough to get a stick of gum. I generally only recommend products or services on this blog that I would use personally and believe you will find cool as well. I am disclosing this in accordance with the Federal Trade Commission's 16 CFR, Part 255: "Guides Concerning the Use of Endorsements and Testimonials in Advertising."